In the "Favorite Weekend" rubric "Military Review" presents a small information sketch about one of the non-NATO power structures of Europe. It's about the power (albeit with a stretch) of the structure of the country, surrounded by the states of the North Atlantic military bloc. This is Andorra and its "analog" of the armed forces. Analog is very peculiar.
In fact, Andorra's own army, whose population is about 85 thousand, does not exist. The functions of the main power structure in this tiny country are performed by the police, which is simultaneously responsible for border control. At the same time, the number of police officers in Andorra has fluctuated from 200 to 250 for many years. It is worth paying attention to the fact that there is currently no rank and file in the Andorran police. All police officers have the rank of officer.

Andorra has not only the army as such, but also the sole head of state. The de jure state is sovereign and defines itself as a principality, but with real princes in Andorra problems. To date, the official heads of the country are two people at once, one of whom is French President Emmanuel Macron, and the other is the Spanish Archbishop Joan Enric Vives-i-Sicilla. They have the official titles of the "skolnyazey." This is about the "independence" of individual European powers and that in Europe "no one ever intrudes into the affairs of foreign states." Despite the fact that Andorra is actually ruled from Paris and Madrid, for some reason they do not call the situation in the European family ... They do not see anything reprehensible in the fact that the overwhelming majority of the country's inhabitants have long acquired passports of French citizens or Spanish nationals.
Returning to the power structure - in service with the law enforcement officers and the borders of Andorra - small
weapon
.

These are the Italian self-loading Beretta 92 (9 × 19 mm), the Swiss-German Sig Sauer P226 (9 × 19 mm Parabellum), the SIG Sauer Pro, the German HK MP5 submachine gun (Heckler & Koch MP5), the Italian smooth-bore semi-automatic self-loading rifle Benelli M4 Super 90 caliber 18,5 mm.
The Andorran Police Department reports that lately, the composition of the security structure has participated in anti-terrorism exercises, as well as in a training operation to detain drug criminals.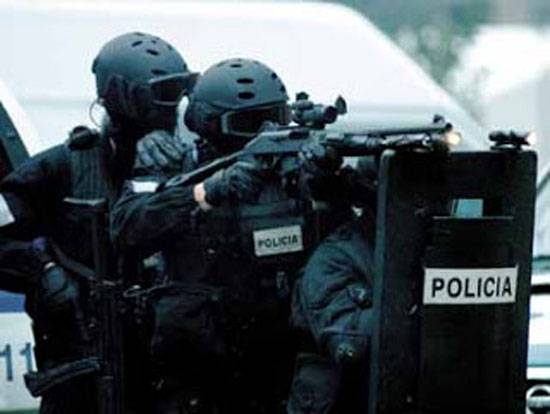 The exercises and operations are carried out with the direct participation of instructors from Spain.
It is officially announced that the army (what they call it) of Andorra, formed in the 13 century, never in its
history
in military conflicts did not participate.