The UN can in no way develop a unified position to investigate the use of chemical
weapons
in Syria. Russia vetoes the US versions of the resolution, the United States and its satellites in response impose a veto on Russia's draft resolutions. American goal: using the mechanisms of the UN Security Council to place the blame on the use of chemical munitions solely on the government forces of the SAR, to which Russia categorically objects, rightly demanding an independent investigation. Russia's claims to the UN-OPCW mission are that the mission prepares its reports without even visiting the chemical weapons use areas in the SAR.
Syrian journalist Riyadh Farid Hijab reports that if the UN-OPCW mission reached, for example, Idlib province, it would have found a lot of "interesting things". In particular, we are talking about the artisanal production of projectiles, stuffed with a damaging chemical. And the militants of the terrorist group "Dzhebhat al-Nusra" (* banned in the Russian Federation) are engaged in production in the cities of Masrin and Guzl in the west of Syria.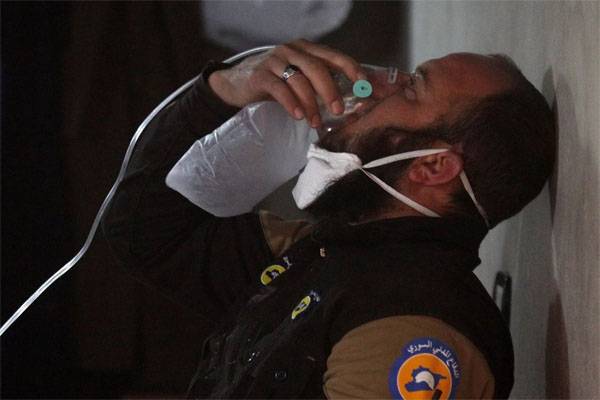 From the material of the journalist:
According to the Ministry of Defense of the SAR, the range of launching shells produced at these "death factories" can be about 15 kilometers. In early November, chemical weapons were discovered in the east of the province of Hama, near the village of Jabal Belaas. There, the units of the Syrian army found huge storage facilities with chlorine, which the militants were going to use against the civilian population. In the middle of this month in the north-east of Hama, terrorists still managed to use poisonous substances. Chlorine shells were sent against the Syrian military. It is characteristic that this
news
sold not only in the Syrian media, a detailed publication was published in the Iranian news agency FARSNews. Only now Western journalists for some reason were silent.
Why kept silent, it is quite clear. Such information does not fit into the Western paradigm that "Assad must leave, since he is a bloodthirsty tyrant." For the same reason, the UN-OPCW mission does not work in Syria, writing its reports in the warm and bright offices of the organization's headquarters in New York and Geneva. Now the UN declares some kind of "new mechanism" of the investigation. It is easy to guess who will be declared the main culprit in the use of chemical weapons in the SAR and in this case.