The floating crane with a load capacity of 400 tons was laid at the Sevastopka center of the Zvezdochka ship repair center - the Sevmorzavod, which is part of the USC structure, the floating crane received the order number 001 and the official name PC-400 Sevastopol.
The solemn ceremony of laying a new floating crane was held on the inclined slipway of the plant in the South Bay of Sevastopol. Factory workers, veterans of the enterprise, representatives of the city government, plant management and USC took part in it. The heavy floating crane received the order number 001 and is being produced for the first time in decades, plant director Igor Drey said at the ceremony.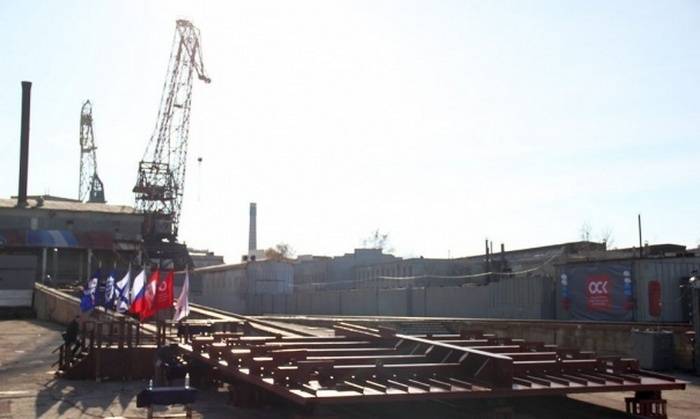 For all
history
The plant built more 70 floating cranes, including for export. They still work. One of them works on the flagship of our corporation - Sevmash (Severodvinsk). Designed the ship TsKB "Coral". This is the first floating crane, which is laid at Sevmorzavod for many years.
- First vice-president of USC Leonid Strugov told reporters.
According to the USC deputy head, the floating crane will be commissioned in 2019 year. Strukov noted that in this way, at one of the oldest Russian shipyards, the Sevmorzavod revived the tradition of domestic floating construction, which received their own names. The whole series of such floating cranes had their own names - "Chernomorets", "Bogatyr", "Sevastopol", "Glory of Sevastopol".
Sevastopol Marine Plant was founded in 1783 year and was called Lazarevskiy Admiralty. During Soviet times, he was among the world leaders in the construction of floating cranes. From 2010 year to its nationalization in February 2015, the plant belonged to the concern of Petro Poroshenko. At the end of 2015, the lease agreement was signed by the branch office of CS Zvyozdochka in Sevastopol of the main production facilities of the State Unitary Enterprise Sevastopol Marine Plant for a period of 49 years.
RIA News