In St. Petersburg today launched the newest MRK (small rocket ship) project 22800 - "Typhoon". The ceremony was held at the Pella shipyard. We are talking about MRK displacement 800 tons, able to reach speeds up to 30 nodes. This is a ship of the third rank, intended for conducting combat operations in the near-sea zone and sea patrols.
The Typhoon is the first serial ship of this project. Before him was created the IRC "Hurricane". It is located at the outfitting quay of the Pella enterprise.
Small rocket ships of the 22800 project are armed with sea-launched cruise missiles "Caliber-NK", as well as modern artillery complexes.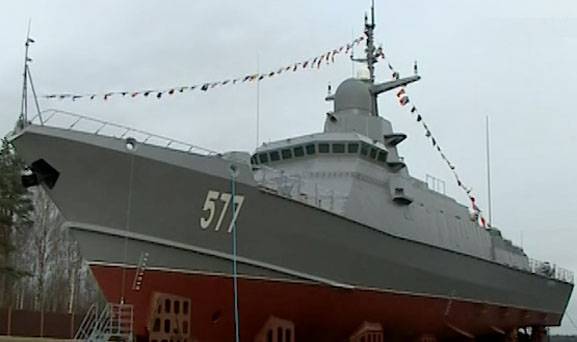 The IRC of the 22800 Karakurt project is equipped with an integrated mast with four fixed PHAR of the multifunctional Mineral-M radar system. It has electronic armament "Track-E" and "Sigma-E".
The autonomy of navigation is 15 days, the cruising range is 2,5 thousand miles. The power plant is diesel electric.