To work in the Far North, a self-propelled artillery installation Magnolia is being created on the basis of the DT-30MP two-link snow and swamp-going vehicle, TASS reported, citing Lieutenant-General Nikolai Parshin, the chief of the Chief Rocket and Artillery Directorate of the Russian Ministry of Defense.
In 2017, the 30 rocket and artillery
weapons
, conducted over 50 research and development work. Now for the units and subunits deployed in the Far North, 120-millimeter self-propelled gun Magnolia and the Tor-M2DT anti-aircraft missile system are being developed on the basis of an armored two-link tracked carrier
- said General Parshin at the training camp of the leadership of the logistics system of the RF Armed Forces.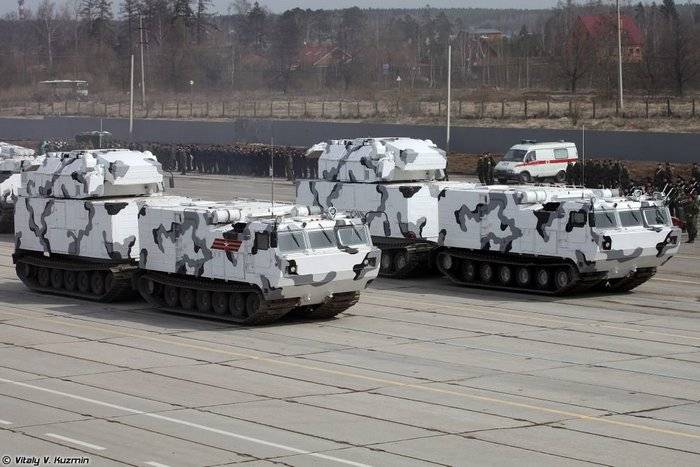 The Arctic "Torah" in white and gray camouflage showed at the Victory Parade in Moscow. On the "Magnolia" the military mentioned for the first time. Judging by the name, it will be a continuation of the famous "flower" series of Soviet artillery systems.
The Russian army already has an 120-millimeter SAU - this is an airborne 2C9 "Nona", which is in service with the Airborne Forces. Her gun can work as a cannon, howitzer and mortar, using a wide arsenal of high-explosive, cluster and thermobaric ammunition - including laser-guided Kitol-2 projectiles. Given the versatility, compactness and low weight of the gun mount, it's most likely that it will appear on the Magnolia.
The DT-30MP two-link armored snow and swamp-going vehicle is an ideal vehicle for the Arctic. Wide tracks with little pressure on the ground do not allow the 30-ton machine to fall into the swamp, and the hydraulic coupling of the links allows you to "lift your head" and climb on the vertical walls. The letter P in the index of the machine means "floating": the speed of water movement 5 kilometers per hour, with the propeller installed - 15. An all-terrain vehicle can transport an 30-ton load without compromising all terrain and towing a trailer on a track.
In March, 2017, DT-30MP participated in an expedition organized by the Ministry of Defense for testing Arctic equipment and gear. First time in
stories
wheeled and tracked vehicles reached across the ice of the Laptev Sea to Kotelny Island, reports RG-Sil