RIA News
With reference to the police department of the Czech capital, reports that in Prague, a monument to Marshal Ivan Konev has been desecrated by unknown people. The monument was painted with paint. Several dates appear on it: 1956, 1961, 1968 and 2017.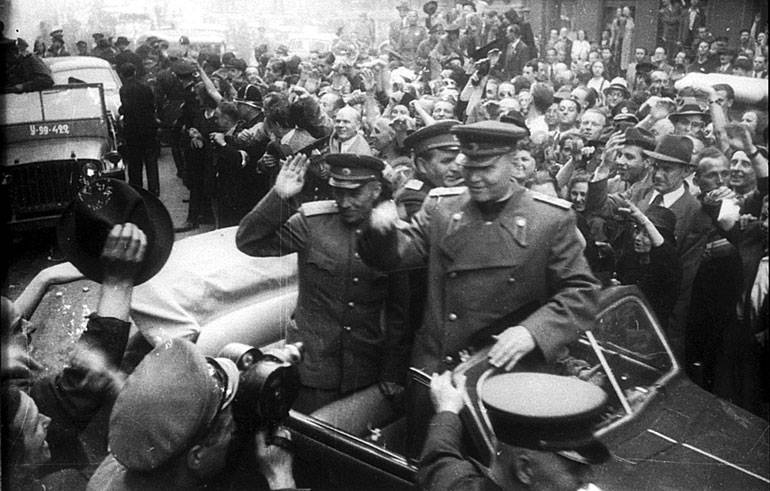 In the photo is the Soviet military leader Ivan Konev in Prague (1945 year)
Apparently, the vandals were not primitive cattle, who decided to just paint the monument to the Soviet marshal. There was a political action, which is understandable precisely by the selection of dates. In 1956, the name under the command of Ivan Konev, Soviet troops suppressed the Hungarian uprising, in the so-called Berlin crisis in 1961, in the Prague Spring in 1968.
The police department in Prague said that the police of the Czech capital is conducting an investigation into what happened to the monument to Marshal Konev.
The authorities of the Prague district, on the territory of which the monument is located, sent a brigade of public utilities to quickly remove the inscriptions from the pedestal.
At the same time, the Prague authorities say that the monument to the Soviet Marshal "must be moved, for example, to the territory of the Russian embassy." Stated that the monument "does not meet current realities." In particular, it is noted that the monument should indicate not only that the troops under the command of Ivan Konev liberated Europe from Nazism, but also that in 1956, they suppressed the "students" uprising in Budapest.
Now I understand where the breeze of vandalism.