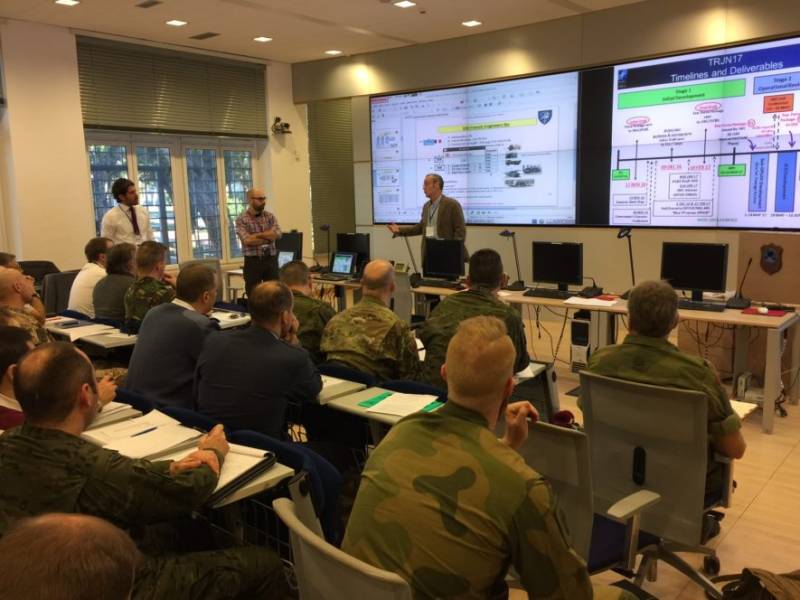 A major NATO mistake led to long-standing political rivals in Turkey uniting and announcing their lack of confidence in the international alliance.
President Recep Tayyip Erdogan spoke about the "huge scandal" during an appeal to the officials of his Justice and Development Party (AKP) in Ankara on November 17.
Erdogan said he was informed by Chief of General Staff Hulusi Akar and EU Minister Omer Celik that the founder of the Turkish Republic Mustafa Kemal Ataturk and Erdogan were represented by NATO enemies during the recent NATO military exercises in Norway.
It was about the exercises, which took place from 8 to 17 in November in Stavanger (Norway), which, according to NATO, were "command-staff exercises with computer assistance without the use of troops."
As soon as Erdogan found out about this insult, he ordered the recall of 40 Turkish officers who were to participate in the exercises. Turning to the AKP, he said: "You cannot have such a union and such an ally".
Now the question of the need for Turkey to join NATO is questionable, and some officials are calling on Ankara to sever relations with the alliance. However, some experts believe that, turning away from NATO, Turkey will become weaker in terms of its security interests.
According to Turkish media reports, the mistake was "double bottom". First, Ataturk was depicted as an enemy of NATO on a poster. And then, during a social network exercise, a fake account of Erdogan was created, on whose behalf anti-NATO-oriented recordings were posted.
NATO Secretary General Jens Stoltenberg immediately apologized for such an act, saying that both incidents "were due to human factors and do not reflect the official views of NATO."
"Turkey is a respected ally of NATO who makes an important contribution to Allied security."
Turkey is the only predominantly Muslim member of NATO, it has the second largest army in the alliance and participates in NATO operations against the Islamic State (banned in the Russian Federation) and in Afghanistan.
Stoltenberg also personally apologized to Erdogan by phone.
Norwegian Minister of Defense Frank Bakke-Jensen said that a soldier who had been hired for the time of the exercise was immediately involved in both incidents. An investigation of these violations is also underway.
Turkish media claimed that the incident was caused by a Norwegian of Turkish origin, who was immediately accused of supporting Fethullah Gülen, an Islamic preacher who is accused of leading the coup of July 2016 of the year against Erdogan.
Erdogan told supporters in the Black Sea city of Rize on November 18 that insulting Turkey in Stavanger was "a clear expression of the ambiguous attitude towards Turkey that has taken place recently."
Pointing out that NATO's trustworthiness is questionable, Erdogan added that in this case "it's impossible to make a mean apology".
Government spokesman Bekir Bozdag called the incident "one of the greatest scandals in
stories
NATO "and added that they want the training commanders to be involved in the investigation.
Political adviser to Erdogan Yalcin Topchu suggested that Turkey should withdraw from NATO. He stated that the alliance supported all Turkish military coups and it was time to reconsider the issue of Turkey's membership in the North Atlantic Alliance.
"Do we need to be in an organization that demonstrates hostility towards its member," asks Topchu.
The leader of the main opposition Republican People's Party, Kemal Kilicdaroglu, who rarely supports the government, said that everyone has the right to criticize Turkey, but no one should insult their leaders and their history. "We strongly condemn this," said Kilicdaroglu.
To the surprise of many, the pro-Kurdish People's Democratic Party, which many Turks consider to be a continuation of the banned Kurdistan Workers 'Party, also condemned NATO, calling this mistake" unacceptable ".
Former Ambassador Suha Umar, who served as deputy head of the Turkish mission to NATO, said that what happened showed how Turkey is evaluated today in the alliance. "In the past, no one could have thought to do something like that," said Umar. "The question to be asked is how Turkey found itself in such a disadvantageous position."
Responding to the argument that NATO has always undermined Turkey, Umar said: "Why did he stay in NATO for so long, if this is so?" He added that even if this statement is true, that in his opinion it is not, then Turkey is in a better position to prevent action against it as a member of NATO.
In response to the argument that NATO had not always treated Turkey very well, Umar asked: "Why do we remain in its composition for so long?" He added that even if this statement is true, although he doesn't think so, Turkey has a wider field for answering, being a member of the alliance.
Turkey's tense relations with key NATO members worsened even more after Deputy Assistant US Secretary of the Air Force Heidi Grant stated that the US may consider restrictions on Turkey's purchase of F-35 fighter jets if Ankara makes a deal with Moscow to acquire C-400 air defense systems.
Ankara says that existing restrictions on the purchase of weapons from other NATO members force it to replenish its arsenals in other places.
Heidi Grant's comment and incidents in Norway are viewed by pro-government Turkish commentators as examples of NATO's attempts to undermine Erdogan's regime and devalue its achievements.
On the contrary, the Turkish left and right, as well as the Turkish Islamists have always considered NATO to be the enemy of their state. The left wing has always argued that NATO is an instrument of the capitalist and imperialist powers, and the nationalist right wing supports this view.
Erdogan's Islamist supporters see NATO as a US-led anti-Islam and pro-Israel alliance that kills Muslims in Afghanistan and the Middle East and would be happy if Turkey leaves voluntarily.
Supporting the growing quarrel between Ankara and the West, some Western politicians are calling for "to kick Turkey out of NATO." The common strategic security interests, however, forced the parties to continue their cooperation, despite tensions between Turkey and NATO members.
Retired General Naim Baburoglu said that talks about the need for Turkey to leave NATO have little in common with reality and are only suitable for discussion inside the country.
"If Turkey leaves, it will have the opportunity to create a national defense system, like Israel's, without any help?" - said Baburoglu. "The world powers can change their minds, but the middle powers will have to answer for such behavior."
According to Baburoglu, rapprochement with Russia will not ensure the security of Turkey, because the regional interests of Moscow and Ankara do not overlap. He also indicated that withdrawal from NATO would deprive Turkey of the right of veto as a full member and would not allow it to prevent undesirable events such as the inclusion of Cyprus in the alliance.
Umar believes that both sides have done what was necessary in this case, and this should be stopped.
"Turkey protested, and the alliance apologized at the highest level," Umar said. - NATO also stated that it had taken the necessary steps and initiated an investigation. The fact that we continue to ask for something else gives us extra points only in the eyes of our own people. "
Turkey, of course, will not leave NATO, but this incident has shown how huge the gulf of distrust between the parties has become.