The Russian Ministry of Defense reports that Russian long-range Tu-22М3 bombers, accompanied by Su-30CM and Su-35С fighters, attacked ISIS militants' objects (* prohibited in Russia) in the SAR. The report says that a group attack on the positions of terrorists was carried out in the province of Deir ez-Zor.
From the message of the main defense
agencies
:
Taking off from the airfield on the territory of the Russian Federation and covering a distance of more than 2 thousand kilometers, the planes hit the strongholds of terrorists in the vicinity of the village of El Katya. As a result of the strike, the strongholds, the accumulations of manpower and the armored vehicles of the militants were destroyed.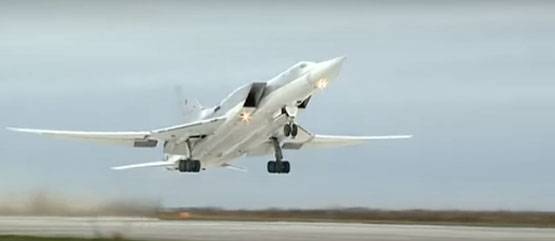 The article states that the strikes on single objects were carried out by Su-24 bombers, which took off to the air to perform a combat mission from the Hmeimim airbase in the province of Lattakia.
It is noted that the data of objective control confirmed the successful destruction of the objects of the pseudo-caliphate terrorists.
There is no data on the airspace of which countries long-range bombers of the Russian Aerospace Forces flew to accomplish the mission to the Syrian province of Deir-ez-Zor.