The American media continues to express outrage at the question of why Russia "not at least formally" invited representatives of the United States to Sochi to discuss issues of the future of Syria. Recall that Russian President Vladimir Putin first held a meeting with UAR President Bashar Assad, and then participated in a tripartite discussion of the issues of a political settlement in Syria with the leaders of Iran and Turkey.
According to the logic of the American media, Russia should have sent an invitation to the United States for a meeting. At the same time, it is not entirely clear in what format the American delegation was "going" to participate in the discussion of the Syrian problem, if it does not accept the presidency of Assad, and the United States included Syria and Iran on the list of countries that "support terrorism". Moreover, any contact with Russia in the United States automatically becomes the reason for the next wave of conspiracy science from the series "and here is the proof of Trump's ties with Russia."
TV channel
CNN
He called the meeting between Vladimir Putin and Erdogan and Rouhani "analogous to the Yalta conference." From the material:
They gathered in Sochi to make an attempt to decide the fate of post-war Syria. From the point of view of Putin, the situation looks like a clear success for Russia in the Middle East.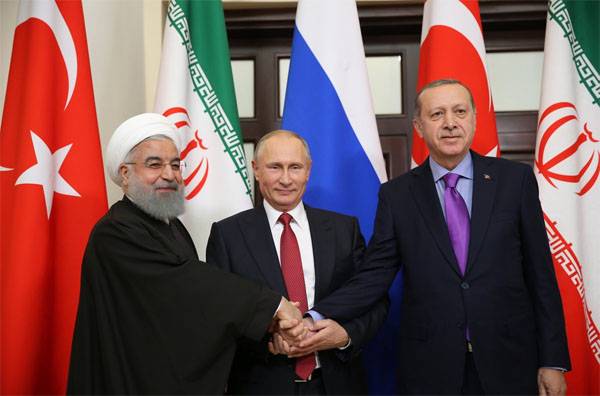 At the same time, it was noted that in the USA "they do not know all the details" of this meeting, adding that "everything is clear as it is - the composition speaks for itself". Apparently, a joint photo of the "world tyrants" - Putin, Rouhani and Erdogan left an indelible impression on the United States ...