Representatives of the OSCE Special Monitoring Group who "did not notice" the Ukrainian
Tanks
in the residential districts of Avdeevka, distributed photographs with military vehicles and people in military uniform on the streets of Lugansk. OSCE SMM publishes photos on its page on the social network
Facebook
.
From the publication of a special monitoring mission:
The OSCE Special Monitoring Mission (SMM) continues to record the presence of military-type vehicles and the presence of unidentified armed persons (many of them have white armbands and hidden faces) in the center of the city of Lugansk.

The SMM noted a generally relaxed atmosphere in the city. However, an unidentified gunmen denied access to the intersection of Lermontov and Sovetskaya streets to the SMM patrol team that was patrolling.

The First Deputy Head of the OSCE SMM arrived in Lugansk to join his colleagues monitoring the situation.
The findings will be presented in our daily reports, available in three languages ​​on the OSCE website.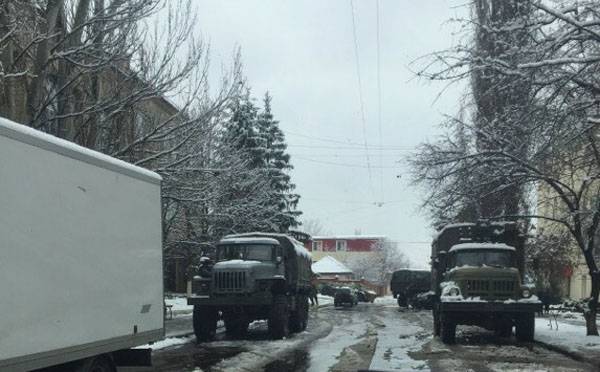 At the same time, the OSCE SMM initially declared "armored vehicles on the streets of Lugansk".
On the eve, the head of the LC, Igor Plotnitsky, held a press conference, noting that the security forces Igor Kornet (the head of the Ministry of Internal Affairs of the LPR, who had been removed by him) arrested the head of the republican Heprocurator's office and his deputy, and disconnected the system of the television center. According to Plotnitsky, military equipment arrived in Lugansk, but it does not threaten the safety of the people of Lugansk.
In turn, Igor Cornet gave an interview, stating that he was conducting an operation to identify Ukrainian henchmen in the ranks of the authorities of the LPR. According to Kornet, Igor Plotnitsky "may remain in his post and ensure the normal work of law enforcement officers."