The trilateral meeting of the Russian, Turkish and Iranian delegations in Sochi began. The presidents of Turkey and Iran flew to the southern capital of Russia to discuss a topic concerning the start of a political settlement in the Syrian Arab Republic. One of the questions is devoted to the topic of restoring Syria after the end of hostilities.
Russian President Vladimir Putin noted that it would be worthwhile to discuss the possibility of creating a comprehensive program aimed at reviving Syria, destroyed by the war.
According to Vladimir Putin, Syria needs urgent help. Thousands of refugees are already returning home, but they often encounter the fact that they simply have nowhere to return - houses are destroyed during military operations or blown up by militants during the retreat.
RT
cites the statement of the President of Russia:
Militants in Syria dealt a decisive blow, and now there is a real chance to end the protracted civil war in this country.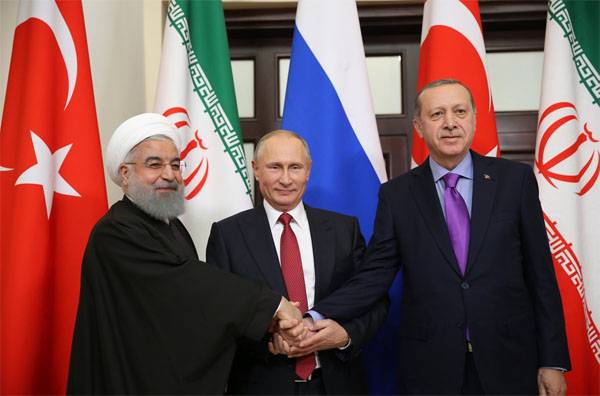 Photo Shoot:
Twitter "Anadolu"
Recall that earlier the political settlement in Syria, the Russian president discussed with the president of this country, Bashar Assad, who visited the Russian Federation.
At the same time, during the meeting of the chairmen of the parliaments of Iran and Turkey, it was stated that joint actions of Russia, Iran and Turkey helped Syria defeat ISIS (* banned in the Russian Federation).