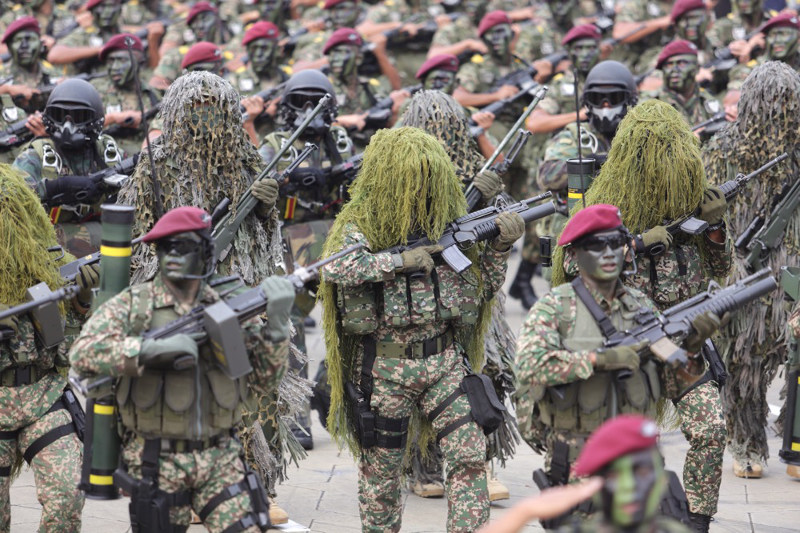 Malaysia and Brunei combine geography and oil as their main source of revenue. And they have one common enemy for two, or rather, a rival.
Malaysia consists of two isolated parts - on the Malacca Peninsula and on Kalimantan. This is a monarchy. Possessing significant oil reserves, the country has built up sufficiently powerful forces on export revenues and is trying to build its own military-industrial complex. Earlier
weapon
It was acquired mainly in the USA and Great Britain, but now purchases are diversified. Among suppliers is Russia, as well as Brazil, China, Korea, Turkey, South Africa, and European countries.
Under the wings of the MiG and Su
Ground forces include four divisions and two separate brigades. Divisions: 1-I (headquarters - in Kuchin, in its composition 3, 5, 9-I brigade), 2-I (Penang, 2, 6, 8-I brigade), 3-I (Malakka, 1, 4, 7-I brigade), 4-I (Kuala Lumpur, 11, 12-I brigade). Brigade: 10-I Airborne (Malacca), 21-I MTR (Mersing). There is a strategic reserve consisting of three regiments (22, 51 artillery, 71 communications). The 1 Division is deployed on Kalimantan, the rest of the formations are on the Malacca Peninsula.
Tank
The fleet includes 48 Polish PT-91Ms (a variant of the Soviet T-72) and 26 English lungs, the Scorpion-90. There are about 400 BRMs: 140 French AML-60/90, 92 English Ferret, 162 Belgian Sibmas AFSV-90. In addition, the police have 20 English BRM Shorland. In service are 103 South Korean BMP K-200A. Of the thousand armored personnel carriers, the largest (315) are German Condor vehicles. The newest own Dzhempit, built under a Turkish license, is now 80, and there will be 257. There are American (V-150 and V-100, totaling 238), Turkish (ACV300 Adnan - 164 units), Swedish (Bv-206 - 80), English and French cars. In artillery: 184 towed guns (110 Italian M-56, 40 American M102A1, 22 South African G-5, 12 English FH-70), up to 250 mortars, 36 Brazilian MLRS "Astros-2". ATGM: 26 Bactar Shikan (Chinese HJ-8), 24 Swedish Eriks, 18 Russian Metis. In military air defense: 15 English Jernas (Rapira) air defense systems, more than 100 MANPADS (including 40 Russian Igla-1, 48 English Starburst, as well as Pakistani Anza, Chinese QW-1 and FN -6), 52 anti-aircraft guns (36 Swedish L40 / 70, 16 Swiss GDF-005).
In the army
aviation
: 11 Italian multi-purpose helicopters A-109LOH, American S-61A and AS-61N (27 and 2). In police aviation: 21 light aircraft (3 Cessna-206, 6 Cessna-208, 4 Cessna-172, 3 Beach-350, 5 RS-6) and 11 AS355 helicopters.
The air force has three air divisions - 1, 2 and training.
18 has the latest Russian fighter-bomber Su-30MKM and 15 fighters MiG-29Н (including 2 UB), American F / A-18D and old F-5 (8). The 5 reconnaissance aircraft (3 Beach-200T, 2 RF-5E) and 4 tanker KS-130H are in service. Transporters: American С-130Н (10), "Beach-350" (3), "Falcon-900" and "Boeing-737" (1), 7 Spanish CN-235М, Canadian "Bombardier-700", Dutch Bombardier-28, Dutch -319, European А4 and 400 А1М (according to 18). Training aircraft: 5 English Hawk (108 Mk13, 208 Mk339), Italian MB3 and MD160-20 (total 53), up to 7 Swiss PC-339. Hoki and MV4 can be used as light attack aircraft. The fleet of multipurpose and transport helicopters includes 17 Russian Mi-316, but mostly consists of French (SA365, SA109N), Italian (A-139, AW725) and European (EC120, ECXNUMX) machines.
The Malaysian Navy has 2 newest submarines Abdul Razman (French Scorpen), 10 frigates (2 Leco of English-built, 2 Kasturi and 6 Kedah of German-built), 4 of Italian Corvette "Laxaman", I've already I, I've already got the X-rayon of the German Corvette "Laxaman", I've already I, I've already had the X-rayon of the German Corvette "Laxaman", I've already I, I, I, I, I, I'm 4 of the Italian corvette "Laxaman, I've already, I've already got the X-rayon, I've already used the X-rayon of the German Corvette" Laxaman ", I've already got the X-rayon, I'm using the German Corvette" Laxaman ", I've already I, I've already got Mahamiru "(Italian" Lerici "), 8 missile (by 4" Perdana "/ French" Combatant-2 "and" Handalan "/ Swedish" Spica "), 6 sentry (" Dzherun "/ German" Larssen-45 "of local construction and British "Chris") 19 landing (2 own "Sri Tiga", 17 Swedish SV-90) boats. In addition, before the 100 patrol ships and boats - in the maritime police.
In naval aviation: 6 English anti-submarine helicopters "Super Lynx" and 6 French multipurpose AS555. The naval police aircraft include the 3 French helicopter AS365 and 3 of the Italian AW139, as well as the 2 Canadian patrol aircraft CL-415МР. The composition of the Navy includes a regiment of marine special forces.
Sultan's Guard
The microscopic state of Brunei on Kalimantan Island gained independence from the UK in 1984. Bordering only Malaysia and entering ASEAN, militarily, the sultanate continues to focus on the former metropolis. Due to its considerable oil reserves, the country has large financial resources, but due to the small population it is unable to create serious aircraft.
The ground forces include the 3 infantry battalion and one support (as part of the engineering and reconnaissance squadrons). The Light Infantry Battalion and the Gurkha 2 Battalion are considered reserve.
Armed with 16 English light tanks "Scorpion", 37 French armored personnel carriers VAB-VTT and 8 auxiliary machines based on them, 24 English mortar L16. The air force consists of 4 squadrons, but do not have combat aircraft. Conventionally, the 1 base patrol of the CN-235M of Indonesian production can be considered as such. There are up to 4 Swiss PC-7 training aircraft and more 40 helicopters (1 Bell-214, up to 6 Bell-206, up to 12 Bell-212, up to 18 S-70, up to 7 B-105). The Air Force includes 3 passenger liners (European A340, American Boeing 747 and Boeing 767), intended for the transportation of the Sultan and his family. Ground defense includes the 12 English Rapira air defense missile systems and 72 French Mistral MANPADS.
The Navy has 4 rocket (like Darussalam), 7 sentry (4 Itjihad, 3 Pervira), 24 patrol and 4 amphibious boats.
The contingents of Great Britain (Gurkha battalion, 3 helicopter) and Singapore (training units, AS332 helicopters) are stationed in Brunei.
Both Malaysia and Brunei are involved in a dispute with China over the Spratly Islands, but are obviously incapable of resisting the PLA, so they will have to either negotiate with Beijing or surrender. Of course, they tend to the first option. A close relationship with the United States and even more so with the UK does not guarantee protection from China at all. Anglo-Saxons would never even die in distant Asian countries.