The Leonardo Group has announced the transfer of the first AW-101 search and rescue helicopter to the Norwegian Ministry of Justice and Public Security.
TSAMTO
.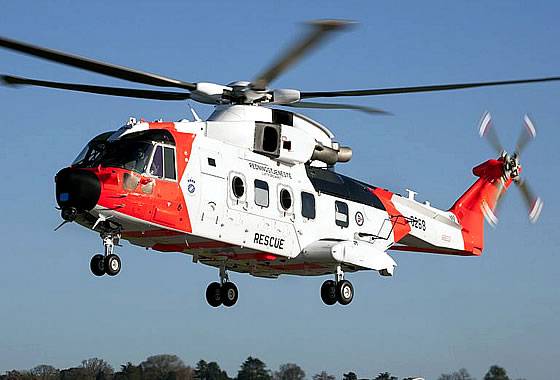 The car flew from the company in Yeoville (Britain) to the Sola air base (in southern Norway).
AW-101 was selected on the basis of a tender announced in 2011 for the supply of a "Norwegian all-weather search and rescue helicopter". AgustaWestland (part of Leonardo) with AW-101 and Eurocopter with EC-725 Caracal reached the final of the competition. Earlier, the NH Industries consortium with NH90 and Sikorsky with S-92 dropped out of the competition.
AgustaWestland entered into a contract for the supply of Norway's 16 new AW-101 search and rescue helicopters in December of 2013. The cost of the transaction amounted to 1 billion pounds ($ 1,63 billion). Deliveries will be made before 2020.
The purchase is financed by the Ministry of Justice and Public Security, and the helicopters will be operated as part of the Norwegian Air Force.
It is reported that "the new AW-101 will be equipped with an advanced search and rescue equipment package, including a Leonardo Osprey radar with electronic scanning, a digital four-axis autopilot, two rescue lifts, a searchlight, an electronic-optical surveillance unit, a mobile phone detection system , an obstacle warning system, meteorological radar, medical equipment ".
The flight range of the vehicle exceeds 1300 km, more than 30 people can be accommodated on board.