Factory testing of the Barys armored wheeled vehicle (BKM) with the wheel formula 8х8 began in Kazakhstan, reports
Messenger of Mordovia
with reference to the press service of JSC "NC" Kazakhstan Engineering "."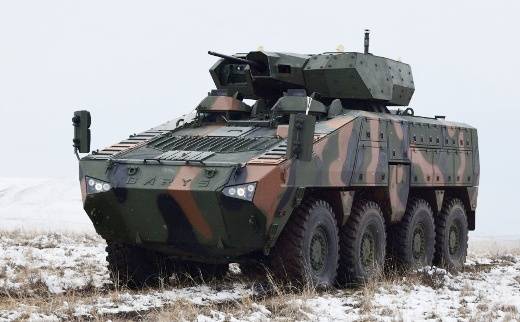 According to the information, BKM "is equipped with a stabilized combat uninhabited module with an 30-mm 2-42 automatic cannon and a twin PKT machine-gun." The product was created by the Kazakhstan factory for the production of defense electronic-optical products "KAE" together with the Turkish company "Aselsan".
Earlier, at the KADEX and Army exhibitions held in 2016, Barys was demonstrated with the Russian 57-mm combat module AU-220М, created by the Nizhny Novgorod JSC Central Research Institute Burevestnik (included in the UVZ).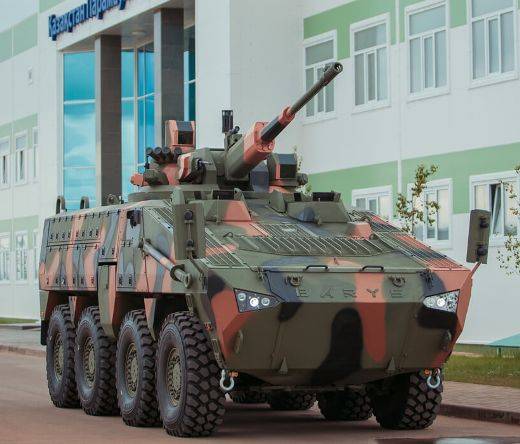 However, in the end, preference was given to the national product. As noted in the material, the fact that production of 30-mm ammunition was established in Kazakhstan played a significant role in this choice.
Barys capacity is 11 man, weight is 19 tons, clearance is 450 mm. Engine power - 550 hp, maximum speed - up to 100 km / h, power reserve - 800 km.
"BKM meets the high requirements of ballistic and mine protection. For example, it can withstand the hit of NATO 12,7-mm bullets and the 10 explosion of kg of explosives under the hull and wheels, "notes the author Dmitry Lemeshko.