Passengers who ended up at the Chopin International Airport in Warsaw saw a very peculiar map of Poland on one of the information boards. On the map in the colors of the Polish flag, the territories of the country indicate not only the current contours, but also those parts that correspond to the territory of Lithuania, Western Belarus and Western Ukraine. In particular, the Polish map indicates the territory corresponding to the location of Lviv.
The journalists turned to explanations about the content of the poster to the administration of the Warsaw International Airport. According to the publication
"Gazeta Wyborcza"
, in the administration of the air port of the Polish capital explained the situation as follows:
The demonstration of such stands is timed to the upcoming celebration by Poland of the 100 anniversary of independence. At that time (1918 year), the Polish map (the Polish – Lithuanian Commonwealth map) looked exactly as shown on the posters.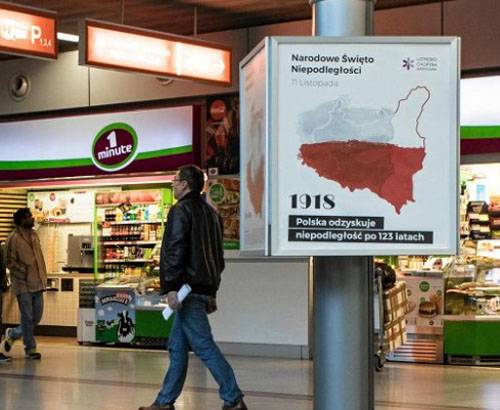 Many public activists in Poland were not satisfied with this explanation, noting that the placement of such stands at the international airport looks like a provocation that could ruin the already complicated relationship with "some neighbors."
From the message in the Polish segment of social networks:
Interestingly, what would those who decided to put up these posters at the Warsaw airport, if the Berlin map of the Third Reich had the 1943 sample of the year hung at the airport?