The statements of a number of Turkish politicians about the country's withdrawal from NATO are aimed, in particular, at influencing Turkey's domestic policy, leads
RIA News
the words of a member of the Republican People's Party (RNP) of Turkey, responsible for organizing international relations, Ozturk Yilmaz.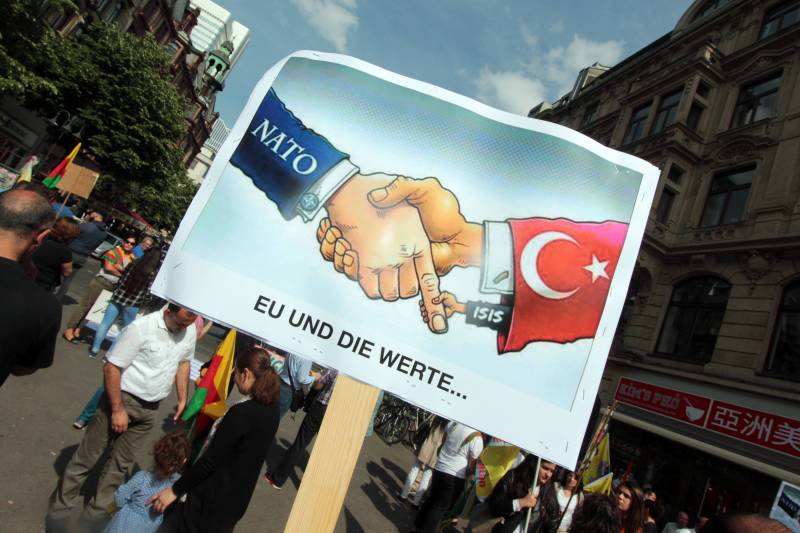 Demonstration of opponents of Erdogan in Frankfurt, Germany.
Earlier, Turkish President Tayyip Erdogan said that the organizers of the NATO Trident Javelin exercise, which took place on November 8-17 in Norway, set up a stand with portraits of "enemies" as a target, one of which depicted Mustafa Kemal Ataturk, the founder of the Turkish Republic, and another the current Turkish leader. The forty Turkish military who participated in the NATO exercise were recalled. The leadership of the alliance apologized to Erdogan, but he considered them insufficient.
The call to leave NATO is not reasonable. It was made ... in particular in order to receive additional support on the eve of the elections. These harsh statements about withdrawal from NATO were made to influence Turkey's domestic policy,
Yılmaz told the agency.
He also said that the EU needs to interact even more with Ankara against the background of the country's internal problems, instead of punishing it (the EU recently decided to cut financial aid to Turkey due to violations of human rights and democratic standards in the republic).
They (the European Union) explained this by saying that Turkey had gone far away from the rule of law, etc. We understand this, but it is not a solution. The European Union should take the opposite step for a more constructive dialogue. The European Union should not make this (the internal political situation in Turkey) a pretext for isolating Turkey, punishing Turkey. On the contrary, the European Union should take the current situation in Turkey as a reason for more active interaction with the country,
said the politician.
Earlier, German Chancellor Merkel announced that she would offer Brussels to end negotiations on Turkey's accession to the EU in connection with human rights violations in the country.