German edition
«Handelsblatt»
It comes out with material that reports on the readiness of Berlin to sign an agreement on the allocation of funds for demining Syrian Raqqa. Recall that Rakku was bombarded by carpet bombardments and the "green" corridor for the leaders of the ISIL militants (* banned in the Russian Federation) "liberated" the so-called American coalition. Now Washington, apparently, not quite satisfied with the non-participation of the Germans in the joint operation, intends to recoup the German taxpayers.
It is reported that the clearance of Raqqi will be carried out by the American engineering company Tetra Tech. It is for her needs that Berlin at the first stage will allocate about 10 million euros.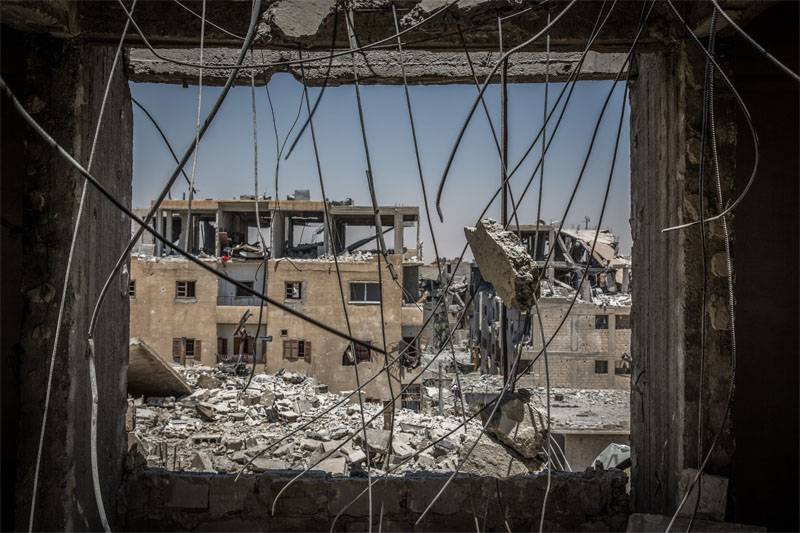 Earlier, the German authorities reported a phased allocation of almost a quarter of a billion euros for the restoration of Iraq's Mosul, which had previously been liberated by the American coalition in a very peculiar way.
Syrian journalist Riyadh Farid Hijab notes that the United States will continue to put pressure on European partners in order to fork out for "restoring Syria." At the same time, the United States does not intend to allow foreign companies to carry out restoration work. States are especially jealous of the Syrian territories occupied by their own troops, where the main hydrocarbon fields are located. In other words, the United States is going to receive tax not only from the sale of oil and gas, but also from the participation of its own companies in the restoration work for European funds.