Deputy Minister of Defense of the Russian Federation Dmitry Bulgakov made a working trip to the Crimea, where he checked the state of the material and technical supply system (MTO) of the troops of the Southern District, reports
RIA News
message of the Russian military department.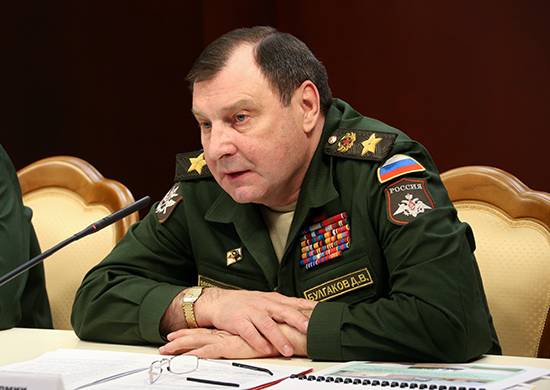 The Deputy Minister of Defense of the Russian Federation made a working trip to the troops of the Southern Military District stationed in the territory of the Republic of Crimea. During the trip, Army General Dmitry Bulgakov verified the fulfillment of the instructions given on the results of the inspection of the logistics system of the Southern Military District troops held in July 2017,
says release.
It is reported that the deputy minister also "summed up the organization of tank-technical and auto-technical support in the Russian Armed Forces in 2017 with the leadership of the armored service of the Armed Forces of the Russian Federation, military districts (joint strategic commands, fleets) of combat arms of the Armed Forces of the Russian Federation ".
In addition, Bulgakov "checked the results of the diagnostics and commissioning of the adit for storing fuels and lubricants in the Mekenziev mountains in the Crimea, and also checked the condition of the fleet of vehicles, barracks, canteens and other military facilities of the 810th Separate Marine Corps and 126 separate Black Sea Coast Defense Brigades
fleet
».