Speaking at a meeting of members of the factional segment of the Justice and Development Party in the Turkish parliament, President Recep Tayyip Erdogan made a statement about the success of Turkish participation in the operation against ISIL (* banned in the Russian Federation) in Syria. Erdogan described the operation "Euphrates Shield", which the Turkish troops, without the sanction of the UN Security Council and without an invitation from official Damascus, carried out in the north of the SAR.
Erdogan quoted news agency
Anadolu
:
The successful operation "Euphrates Shield" was the first serious blow to ISIS (*). We have proved that the terrorist group "Islamic State" (*), which is called "invincible" (*), in fact did not represent anything special in military terms.
Erdogan noted that there are some disagreements on the Syrian issue, but immediately added that these differences can be overcome if substantive issues are discussed at the upcoming summit of the delegations of Russia, Turkey and Iran to Sochi.
Further, Erdogan noted that Turkey constantly draws US attention to the erroneous course of American foreign policy in the region.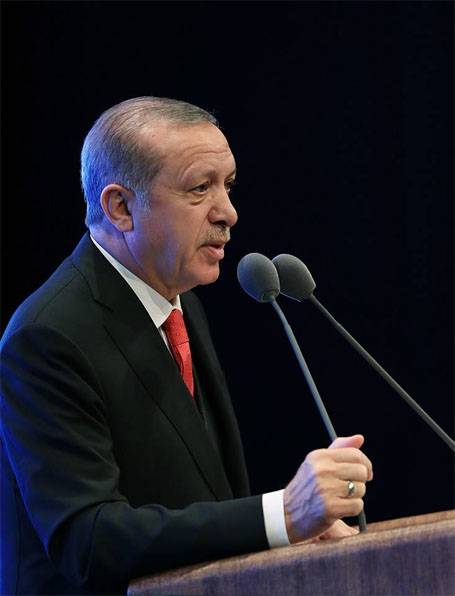 Erdogan:
The process of the emergence and disappearance of ISIS (*) raises many questions. If ISIS (*) is done, then why do trucks with (American) go to Syria?
weapons
? Who is this weapon aimed at in Syria? The reason for these actions should be explained. But the fact is that we already know everything. Turkey can not quietly observe the events that affect the future of the country.