"There, in the distance, the plant smokes, rattling with iron, which nobody needs: neither drunk nor sober ..."
There is such a topic. Not even painful, but beaten by everyone (literally everyone!) - AvtoVAZ is called. As in Soviet times, it was accepted (and allowed) to laugh, for example, at marketers, nuns and deputies, so now there are two such "goals": ​​AvtoVAZ and the Russian football team. Which, by the way, reflects the low level of many Russian comedians. (By the way, Petrosyan laughs at other topics. Even Petrosyan, Karl!)
But the "humorists" do not subside, so I would like to answer in full, that is, fully and fully deployed. About Russian football some other time, but about AvtoVAZ - here and now. The engineering topic is so close to the author professionally. And that same dear and beloved automobile plant is only a part of an iceberg. A huge such, but for some reason "unnoticed."
For some reason, all without noticing that iceberg, they attack the unfortunate Volga Automobile Plant and demonstrate a rare sense of humor, and yet everything is not so simple and not so straightforward. We must start with the fact that Western / Eastern manufacturers have not managed to oust AvtoVAZ from the Russian market, which is quite strange, given the difference in technology and financial capabilities.
As for state subsidies: today almost all car factories in Russia (truck manufacturers are also concerned) are about equal conditions - collect the same trucks in Russia, and you can even claim for budget money. And yes, the "big three" automakers in the United States (at least Chrysler and General Motors) claimed quite a lot for such money (and got it!), And the "top managers" of the bankrupt American auto industry's supergiant even flew to Obama for this money in a private helicopter, which infuriated him.
It is very strange that none of the "leading manufacturers" managed to make AvtoVAZ "better and cheaper" in Russia ... paradoxically this ... In principle, this plant acquired some mystical shade, and yet it was a stupid purchase of Fyat production passenger cars (at one time). What's the mystery here? Those car assembly plants that are being built today, for example, in Kaluga, differ very little in ideology. By ideology - no, by technology - yes (a lot of time has passed since that glorious era).
"The development of a car line", of course, was already under Soviet conditions of austerity on consumer goods - but that is another question. And so, in principle, AvtoVAZ is a banal factory, and not a place for "concentration of dark forces" even once. Just in 60's
so
built and so organized production. Since then, another industrial revolution has happened and the size of automobile plants sharply "shrank".
So yes: with the "city-forming automobile plant" all one will have to do something. Such car factories are already a thing of the past - this is true, but it is rather strange to demonize this very production. There can be nothing so unbelievable in ordinary production. The trouble is that in the absence of their own production, imported goods tend to rise in price seriously - there were such problems with insulin.
The problem was precisely the "Soviet management" for decades, which led to certain "funny" results. Tens of thousands of people in Tolyatti and hundreds of thousands across Russia depended on AvtoVAZ as an employer ... such things. It was very difficult to say what was to be done with this, today Lukashenko faces a similar problem in the face of another Soviet auto giant - MAZ ... By the way, MAZ does not have assembly plants in Russia.
Leading the industry is not as easy as many think. AvtoVAZ was stupidly unlucky with the change of epochs: it turned out to be too many people who were no longer needed in such numbers, but the huge financial resources needed at the end of the 20 of the 20th century to develop new models were completely absent - hence the problem. Plus the "features" of the post-Soviet management - hence the results. Close everything and fire everyone at the end of 90's, and buying cars for foreign currency is certainly great, but not very practical.
In general, this very logic is rather strange and surprising - I could not understand it even once: when everyone starts to agitate for the purchase of imported cars. The point here is not just patriotism, it's about currency. No, in principle, if we had something like Holland or banana-lemon Singapore, then it is just understandable. People actively earn the currency for the country and their desire to spend it is quite understandable.
In Russia, everything is a little different. Few enterprises in Russia can boast that they are capable (without state support!) Of actively earning a currency. In large quantities, not one-time. By the way, yes, the very new assembly car factories, built recently in the Russian Federation, are now standing idle here and there. Demand within the Russian Federation fell. So our government had a wonderful idea - to redirect the stream of collected cars for export (global brands!). However, this idea did not meet with almost no understanding among the owners of the factories.
Paradoxically, they were created precisely for the Russian market. No, some small exports certainly take place, but in general it is sometimes easier to stop production. Some kind of one-sided globalization. What can we say about purely Russian factories: they can buy high-quality imported equipment and high-quality imported tools (for good money!). However, the products manufactured for them can be sold mainly within Russia, well, or if it is a defense industry - for the state / for export, but it is completely different
история
.
Somehow difficult, difficult and straining, we have things to do with earning currency. Somehow ambiguous. It is hard not to be surprised at such a "one-way" currency movement. It is like a great waste, but not so great earned. In the worst case, we simply have purchases of (endless) imported equipment and tools, at best, localization attempts, but again sales are planned inside Russia.
In any case, the system requires a constant external source of the same currency.
- And how much is the dollar / euro now?
- How much did your company earn those euro / dollars last year?
There is such an unpleasant feature in the work of Russian business: the guys love to boast of their own self-sufficiency: we, we say, make money for the country. However, most of them are very concerned about the issue with the exchange rate. The trouble is that in many respects they buy the "goods" over the hill: from Chinese consumer goods to tours to Turkish resorts. And they sell all this "happiness" just for rubles. Therefore, the question of the value of the currency for them is absolutely critical.
At the moment of crisis, this is manifested clearly and clearly: the currency jumps in price, the demand drops, the business begins to have problems ... That is, for the prosperity of the business itself, it is necessary that gas / oil / other raw materials are sold "over the hill", the currency has come to the country ... and then! This is where private business will flourish! On the sale of Sino-Turkish junk, bought for those same petrodollars.
You know, the fables about high-quality Western goods sounded good in the 70s, when they were actually manufactured in the USA, the EU and Japan. And, by the way, they were worth quite a lot of money if someone does not know! But in the USSR it was sold for a penny (I had to be able to get it!), Which gave rise to myths and legends about the western quality. No, it basically was, but it was quite expensive. By the way, and then it was full of cheap / third-rate goods on the world market, but for obvious reasons, the USSR did not buy them (the communists did not know how to trade!).
Today, Western brands are stamped in the third world, the quality has seriously fallen, and to say that something can be done in China / Turkey, but in Russia it isn't frivolous. No there is a fundamental technological superiority. It's just hard and hard to produce something, but to buy, sell and make a profit is much easier.
In principle, something like this happened with "localized" production: when the ruble fell in 2014, it turned out that often the main item of expenditure from them was the purchase of imported components (much more than half of the costs, sometimes under 80%, sometimes more). When the national currency depreciated, this led to quite predictable consequences. You know, sometimes you communicate with such cadres, read interviews with them, and you get a very strange feeling: adults, and act like children.
Say, the state wants to have "production in Russia" - well, we will deploy what problems. In terms of SKD assembly / repainting ... and the type everyone is happy. And at all exhibitions such a manufacturer actively demonstrates products "made in Russia". But then the "course of the euro" flies up and the horrible / heart-rending cry of the "Russian producer" is heard (as if he was pinched or something valuable). He also has foreign currency bills to pay ... and foreign currency loans. That is, the manufacturer, of course, "Russian", but here all its expenses are mainly not in rubles. Such is the ambush.
The old rule is: take loans in the currency in which you earn. Strangely enough, the same bad luck happened to AvtoVAZ under the wise guidance of Bo Anders. He found it difficult and stressful to develop the production of automotive components in Russia. Especially if there is an opportunity to purchase them abroad from experienced manufacturers and standard quality.
And then the foreign currency went up and AvtoVAZ started having childish problems with payback. Sanctions, the appreciation of the euro / dollar, the economic downturn in the Russian Federation, it is impossible to raise prices in rubles, and our currency components are ... pichalka.
No, of course, not everything is as bad and sad as it was at the end of 90. Russia provided itself with bread and became the largest exporter (warming also played a role), and the bourgeoisie built automobile plants here ... it's possible to live. But the problem persists. Russian business (and the public!) Spends much more currency than it earns. This disproportion has developed, the whole trouble is that neither the king, nor God, nor Putin are obliged to provide us with currency. It is not spelled out anywhere - neither in the Bible nor in the Constitution.
Do you want to ride a German car assembly? Great, just great! Are you ready to earn the necessary amount in euros? Then go ahead! No, not Rosneft and not Vekselberg, but you personally! Usually, here in this place, opponents begin to get excited, to wave their hands and to prove something about the "oil producing country" (and splash saliva in all directions). And scream out loud, indignantly.
In general, if someone is not in the subject, then the export of oil / gas was created by the Soviet state to solve strategic government problems. Buying a Mercedes "German assembly" for Vasi Pupkin is not a strategic task and cannot be. The currency for such tasks should be earned by the Russian business (and the Russian manufacturing industry, which is now privately owned!). But this very business (as we have already found out) prefers not to earn currency, but to spend. I don't know, guys, how to help you, I just don't know.
It is accepted to laugh at the "import substitution" and "support of the domestic producer". However, that same laughter would somehow be justified if those who were laughing for the most part earned a currency. But for the most part, the Russian population has learned to spend it. It must earn "someone else."
In principle, there is nothing new in these arguments - on this topic, Parshin witnessed 15 years ago in his own, which became the classic "Why Russia is not America" (can the whole country earn one jeep ...). Now we can finally conclude that the Russian model of "business" has reached a dead end. For normal operation, it needs an inflow of currency (for the purchase of imports) and solvent population / enterprises within Russia (for high sales) ... right here it will unfold! This is where he will show himself!
That is, the oil should be "high" and the dollar - "low." And the population is rather not even a "labor force", but just "consumers" of goods and services ("cheap Chinese" produce everything, but "cheap Ukrainians" with Tajiks deliver on wagons / carts ...) And earn money and give people need work just "someone else." Business, on the other hand, likes to create endless vacancies for "sales managers".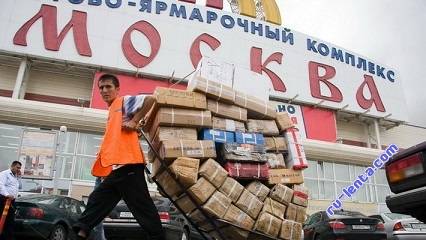 As a matter of fact, today we are witnessing the crisis of this "business model" itself, if not for the sanctions, it could live for some time, but the sanctions pressure and "low oil" simply destroyed its prospects. The "solution" to our wonderful business offers a brilliant one: cut wages, put everyone on a percentage and drive them into the fields ... increase sales ... Or let them die of hunger like flies. Something like this.
At one time, the "democrats" actively criticized the USSR for "raw materials exports" and the purchase of consumer goods for petrodollars, but just within the framework of the USSR / CMEA there was a super-powerful domestic production, which created a huge number of jobs. Which today is simply gone. Turner today is not very popular, as well as design engineers ... at least it's not good to pay them (if measured by Soviet standards).
But everyone wants to "increase sales". That is, these "wonderful people in expensive suits", unlike the bad "commies" with their factories and plants, do not come to give work, they come for the money that "someone" has to earn for them. Imported goods are brought to Russia, sold, the proceeds are converted into currency and ... exported out of the country. Well, under the pressure of the "party and Medvedev" a certain "localization" took place, but in general, the direction of the currency movement is the same, albeit smaller. Yes, there was a certain export of finished goods from Russia, but not to say that we overshadowed Japan and Korea.
As before, the business is the sale of imported goods (bought for petrodollars) to the Russians. Everything seems to be good, but ... the "bottomless Russian market" has long been mastered. Further "dig" simply nowhere. Everything, gentlemen, is a dead end. And no one likes this simple idea ... after all, it is so good to "make money" in a very simple buy-sell cycle - it's so warm and comfortable there, if only there were no "nasty AvtoVAZ" with its own basins ... how everything would be great
I say, none of those who laugh at the jokes about AvtoVAZ
himself
currency does not earn (well, almost no one). And this is not going to do. A funny thing is life: very many men in the Russian Federation can popularly (by comparison!) Explain all the plus and minus of Japanese and German cars, but almost none of the "luminaries" own the art of making currency. In principle, no one is interested ... Why? There is a nasty Gazprom and a nasty Rosneft - so let them work like Papa Carlo, but we don't have enough time ... For some reason, the majority of the population has a simple thought in their head that currency should be ...
Well, for almost the entire 20 of the 20th century, we didn't have any currency for the broad masses of the population ... Forgot? In general, yes, to good (for example, to an excess of currency) you get used quickly, it is always difficult to wean. To understand what and how much that business is really capable of, which is "not a scoop", it's enough just one simple introduction: work as you wish, but petrodollars
no more
. Freedom is complete! Taxes are minimal, but all petrodollars (as planned) go for strategic goals.
It can be funny. This is approximately as a restriction on the sale of alcohol, first in kiosks, and then in stores. That is, if you can trade in vodka, then the business goes with a bang, if not ... then big problems begin. Unprofitable. In fact, historically, vodka is the basis of the Russian budget (the fleet, drowned by the Japanese under Tsushima, was built just for drunk money). And so, "grasping the neck of the bottle," our business turned very well. Privatization of the vodka business was going with a bang. The movement in the opposite direction is very slow and is accompanied by loud cries of "victims". With cigarettes, by the way, the story is similar.
We have something similar with the consumer goods trade (we will include Mercedes here too) for petrodollars. The state did not undertake to supply them with business infinitely, and by itself it is not able to earn enough of them. "Pichalka". But if you don't go into details, but to watch it as a whole (especially from the banks of the Moscow River), everything seems to be looking good ... and everything seems to work. But it is worth, for example,
carefully
to track currency flows like "grace" is dispersed by the cavity and uncomfortable questions arise.
And it can still work with confidence
without
oil money? Or at least work
in general
? For some reason, no one in this area (including those from active economic subjects) is particularly willing to think. It is difficult because it is difficult and dreary. They toiled around the clock, turning out the gear ... then spat and sold a ton of oil - something like that. And you know, that's exactly what strains very, very much. As it is sung in one famous song: "What will happen to the Motherland and with us?" The legendary and widely advertised business in the most paradoxical way does not undertake to solve complex and eternal questions, but clings to the most delicious things with a bulldog grip.
For example, in the sale of vodka or in the export of "waste of nonferrous metal", or in the oil business ... No to "stir up" a giant chip manufacturing factory ... or to start laying communications to remote areas of the country. It would be so cool, but no. It will not be our business to do this. Not interested. Here's the idea of ​​raising the dollar for a producing economy is good. Our product becomes cheaper. Unless, of course, this is our product.
And yet in the 1998 year, this was exactly the case: domestic producers dramatically benefited from the growth of the dollar. Their products sometimes became cheaper in currency at times. But in the 2008 year, everything was not quite so ... No rapid growth in production (albeit in individual industries) was somehow observed. Oh, the fact is that the equipment and components are bought abroad? The international division of labor, you say? Guys, are you busy with production or "gray imports"? What is your "added value"? Not negative by chance? (In the case of localization by unnecessary disassembly-assembly it happens.)
"Apofigey" such a scheme of work was "Sukhoi Superjet", which was positioned as a new Russian aircraft. And why from imported components? And they are certified for the international market. For export this is important. Then it turned out that, having spent billions, we collect not the best and not the most modern aircraft, mainly for ourselves, but at the same time "bundling" is bought for the currency ...
That is, in fact, Russia's place in this "international division of labor" is stupid to be a consumer not in our manufactured goods? Not being the issuer of the dollar / euro? Unenviable fate, frankly. And such a scheme does not imply a high standard of living for the majority of the population. And the scheme itself is little by little falling apart: "cheap Chinese", having accumulated capital, are no longer so cheap. All today, China has ceased to be a country ready to plow for a penny. And American banks refused to finance Russian business, and even Tajiks began to swing their rights ... Paradise suddenly began to fall apart.
The symbol of the ongoing process was the "Tajik uprising" in the shopping center "Moscow". Once there was a factory (State Bearing Plant number 1). And now the shopping center. And then the guards (either Moldovans or Ukrainians) beat the "carriage pusher" from Tajikistan ... They beat him so badly. And the Tajiks, respectively, rebelled. Ungrateful! And the comments are immediately heard in the Russian press, loud and angry, frankly, "anti-Tajik" comments ... Zastrastrat them and deport ... and then dig out and deport again ... Tajiks, they say, "began to pose a threat."
The problem is not in Tajiks, but in a very specific organization of the modern Russian economy, where in the former giant workshops, where thousands of highly skilled Russian workers worked, shopping centers are created, where "according to the laws of the market" economy, loaders from Central Asia ... who, living in inhuman conditions, pull on carts "high quality goods" from the Middle Kingdom and the land of the Turkish ...
There are also vacancies for "local" as security guards and "managers" for sales, the very nishtyak that the undemanding citizens of the Central Asian republics are carrying in their carts. Lepotta ... In fact, there is a primitivization of the economy, its degradation and the inevitable
declining standard of living
. Even so, no matter how much you tell tales about the endless "increase in sales", as a way to increase wealth (Increase at the expense of whom? Underground gnomes?). The economy of the 150-million country (the largest in the world!) Cannot consist mainly of "Tajiks" and "truckers", "guards" and "managers". I forgot about the "top managers", I'm sorry. "Top Manager" - it's like a cherry on a cake, although not the cake itself ...
Who else would bring to us a simple idea that the main thing is not the size of the salary, but the desire to achieve the goal? And the money for the employee is not fundamental from the beginning, the main thing is the correct organization of labor ... the employees of the Magnit network will not allow to lie.
In the country, there will be an increase in unemployment and a decline in living standards. What, in principle, is already happening. And social unrest, and interethnic clashes, when "sturgeon will be finally cut."
Production is difficult and hemorrhoid, but this is actually the only way to increase employment and wages. This is the only way to create mass "expensive" jobs. And only that "production" can be considered as a production without quotes, which receives bonuses from
depreciation
national currency. Paradoxically, in Turkey (today we are bringing grain to Turkey, and exporting machines for bending metal!) And especially in China (where almost everything is produced), the development takes place according to this scenario, and we will all try to call Ramshan to order with Dzhamshutami ...
Vain efforts. The only real way to massive increase in welfare is production and
export
high-tech products with high added value. The fact that we have learned to laugh at AvtoVAZ is wonderful, simply wonderful ... but when people laugh, they learn
making money
currency is better than they are able to spend, we will simply not stop.