President of Ukraine Petro Poroshenko, speaking today in front of the military on Mikhailovskaya Square in Kiev on the occasion of the new Day of the paratrooper, which is now celebrated in Ukraine on November 9, officially approved the renaming of the highly mobile airborne troops of the Ukrainian Armed Forces, and also moved the Day of the paratrooper from 21 August on November 2, reports the Ukrainian edition
LB.ua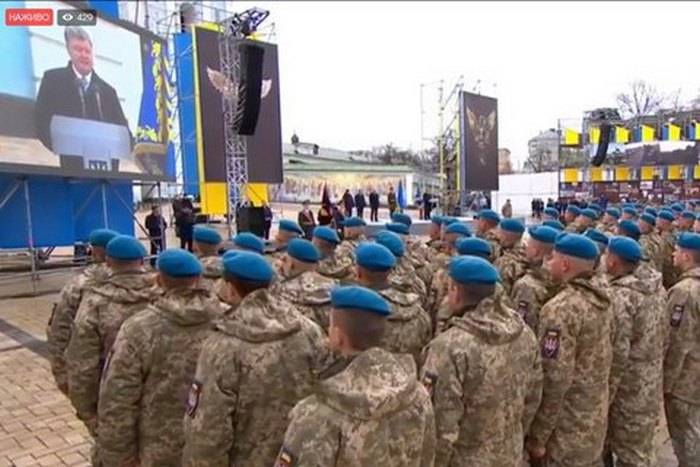 As president and commander-in-chief, he also decided to move away from the Soviet-Russian abbreviation of the Airborne Forces. Therefore, I decree to introduce a new name - Air assault troops of the Armed Forces of Ukraine
- Poroshenko said from the podium
The color of the Ukrainian landing was maroon, not blue.
This is the color of blood, of your blood spilled in the battles for Ukraine. Claret berets use the 59 countries of the world to identify their paratroopers, of which the members of NATO are 19. Thus, we are introducing another Alliance standard. On the beret also changed the sign. From now on, this is the parachute dome as a symbol of airborne units all over the world, the wings of the Archangel Michael and the fiery sword with which he strikes the enemies of the human race
- Poroshenko added.
We will remind, earlier about the upcoming renaming of the Airborne Forces reported in the Ministry of Defense of Ukraine. The choice of a new date for celebrating the Day of the paratrooper there was explained by the fact that this is the day of the patron saint of the paratroopers St. Michael.