The presidents of the Russian Federation and Syria, Vladimir Putin and Bashar Asad, met on Monday in Sochi, where they discussed issues of a political settlement in Syria, as well as preparations for holding the Congress of the Peoples of Syria in the coming days. The conversation took place during the working visit of the Syrian leader to the Russian Federation, according to the Kremlin website.
Vladimir Putin congratulated Assad on the successful fight against terrorism. According to him, the Syrian people are going through very difficult trials and are approaching the rout of the militants.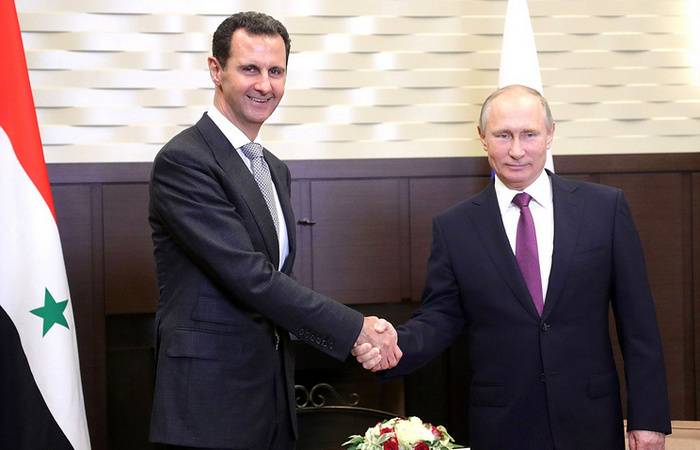 Assad noted the successes achieved thanks to the joint actions of the air forces and government forces. He emphasized that Russia saved Syria as a state. According to him, the Russian operation
aviation
also allowed the advancement of a political settlement.
The Russian leader stressed that the most important thing now is to move to a political settlement. He noted that Assad is ready to work with anyone who wants peace and stability.
Syrian President said that Damascus expects that Moscow will help ensure non-interference of external players in the country's political processes. At the same time, according to Putin, Russia is counting on the active participation of the UN in the final stage of the process.
He stressed that the creation of de-escalation zones made it possible for almost the first time to start a real dialogue with the opposition.
In addition, the Russian president recalled that on November 22 he would hold a meeting in Sochi with the presidents of Turkey Recep Erdogan and Iran Hassan Rouhani.
During the meeting, Putin also presented Assad to the leadership of the Ministry of Defense and the General Staff. As noted by Senator Franz Klintsevich, the meeting of the leaders was a tremendous breakthrough in the process of military-political stabilization of the situation in Syria, reports
RIA News