The second small rocket ship "Typhoon" project 22800 ("Karakurt") will be launched on November 24 in St. Petersburg, the Russian Defense Ministry reported.
Two small rocket ships [IRAs] of the 22800 project, the Hurricane and Typhoon, were simultaneously laid at the St. Petersburg shipbuilding enterprise Pella, 24, December 2015 of the year. The main small missile ship "Hurricane" is currently on the water near the factory's embankment
- told in the Russian military department.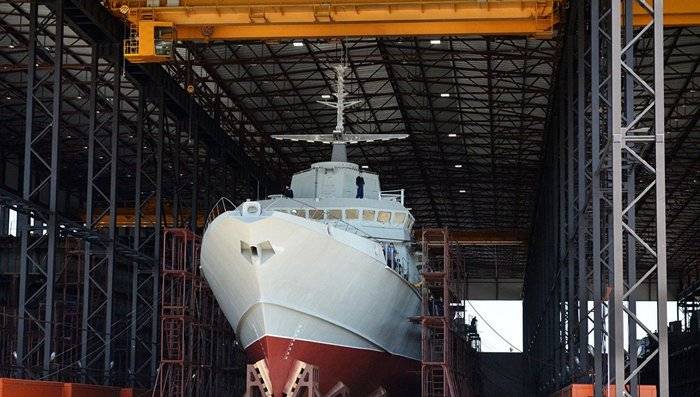 Small rocket ships of the 22800 project have proven their effectiveness and reliability in operation, performing tasks in the far sea zone and in particular in the Mediterranean
- quoted in the Ministry of Defense the words of Deputy Commander-in-Chief of the Russian Navy for armaments, Vice-Admiral Viktor Bursuk.
Ships will alternately become part of the Naval
fleet
after completion of construction work and all stages of testing. They were designed by the Almaz Central Marine Design Bureau, have a displacement of about 800 tons, a speed of over 30 knots, and are equipped with a complex of high-precision missile
weapons
and modern artillery complexes, power plants of Russian production.
Among the main advantages of these ships are high maneuverability, increased seaworthiness, as well as the architecture of superstructures and hulls, made according to technologies of low reflectivity. Ships can perform tasks in the sea zone at a distance from the bases about 3 thousand miles, transmits
TASS