The US administration in 1962 considered the possibility of making copies or acquiring Soviet aircraft with the aim of conducting an attack with their participation in the US military base or allied base, reports
TASS
with reference to declassified materials in the case of the assassination of US President John F. Kennedy.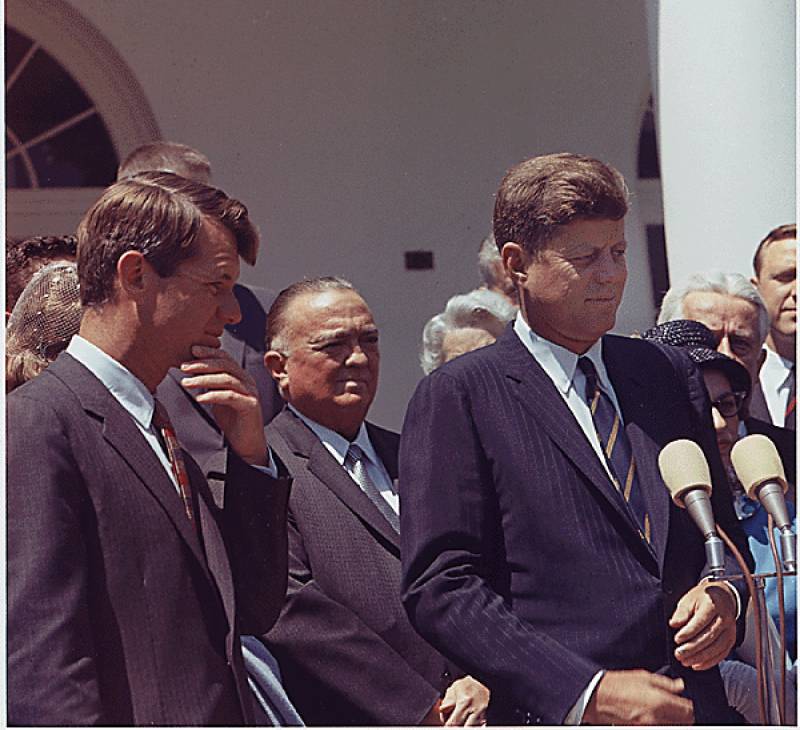 From left to right: US Attorney General Robert F. Kennedy, FBI Director Edgar Hoover; US President John F. Kennedy.
The report refers to a meeting of 22 March 1962, which discussed "the issue raised by the Attorney General (Robert Kennedy), about the possibility of the United States to manufacture or purchase (copies) of Soviet aircraft." In addition to the Attorney General, President John Kennedy, Secretary of State Dean Rusk, CIA Director John McCone, Assistant to the President of the United States for National Security McGeorge Bundy, and Chairman of the Chief of Staff of the United States General Lyman Lemnitzer participated in the discussion.
The need to obtain copies of Soviet combat aircraft is explained by the following reasons: "There is a possibility that such an aircraft can be used in operations for the introduction of (
aviation
) misleading the enemy ", as well as" for a sudden attack on enemy targets or provocative actions, during which Soviet planes will attack American or friendly targets, which will serve as a pretext for US intervention. "
Historian Robert Dallek told back in 2001 about Washington's exploration of the possibility of using copies of Soviet aircraft for such an action in his book "John F. Kennedy. Unfinished life. 1917-1963. In this case, the author argued that this idea did not originate from the Prosecutor General Robert Kennedy, but from the Director of the CIA, McCone.