The first photograph of the modernized "Soltsepek" appeared on the website of the Omsk Transport Engineering Plant. The first thing that catches your eye is the appearance of built-in dynamic protection on the frontal armor, writes
Messenger of Mordovia
.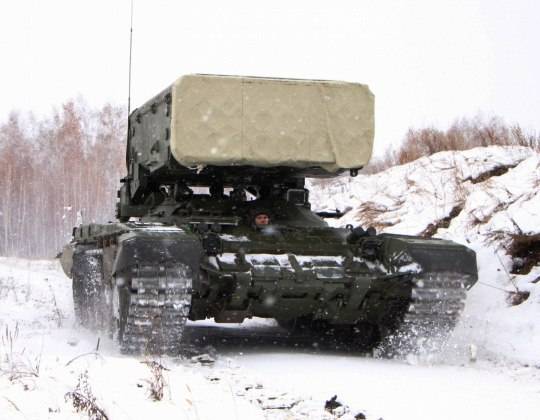 This improvement is good. Earlier, the agency in the article "Why are Russian TOC-1А worse than Iraqi?" The "sunshine" of the Russian army is not equipped with dynamic protection at all. The result due to the lack of such protection can be very sad, given that on the battlefield there is a high probability that the TOC will have to be under the fire of the enemy's anti-tank weapons. "
Currently, this disadvantage is eliminated. Work was carried out on the chassis, the same as during the modernization of T-72B or B1 in T-72B3. However, it is not clear which engine is installed on the combat vehicle.
Also, TZM-T transport vehicles "with improved characteristics" were supplied to the troops. They are equipped with HP 840 engines.
Today, the military and the military-industrial complex are actively working on the improvement of technology, which has proved its necessity in the course of actual hostilities. "This is surprising, but not all people in uniform were sure that Sunshine are needed. The fact that they were mistaken demonstrated the experience of the participation of Omsk machines in wars and military conflicts, "concludes the publication.