The CAA and its allies completed a sweep of the city of Abu Kemal, the terrorists attempted to move to Iraqi territory from Syria, reports
FAN
with reference to Syrian sources.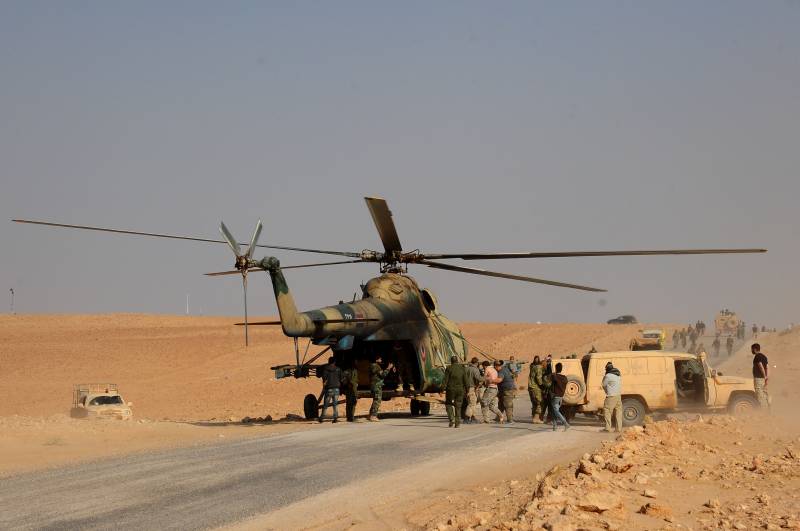 Armed clashes between the Islamists of the armed opposition and ATS units were recorded throughout the day in the Eastern Guta region. Militants of the allied anti-government groups re-opened fire on residential buildings in the capital, with the result that several civilians were seriously injured. As a result of the attack by the Syrian army, the militants repulsed one of the checkpoints. In the southwestern part of the province of Damascus, Islamists were driven out of the settlements of Kafr Hur, Beit Tim and Beit Sabir. One of the opposition groups, the Fadj Al-Haramon Brigade, withdrew from the alliance and joined the CAA.
In the province of Deir-ez-Zor over the past day, the Kurds managed to make some progress on the left bank of the Euphrates and seize the village of Dyban, destroying a car bomb of IG terrorists (the group is banned in the Russian Federation). Later, the Syrian Democratic Army (SDF) attempted to knock out the IG radicals from the settlements of Abu Hammam and Jardi Al-Gharbi near the Al-Omar oil field. Several times the cities were subjected to powerful artillery strikes, with the result that several civilians were killed.
Meanwhile, the army of Bashar Assad, with the support of the Iranian and Lebanese militia, Shiites continued to clean up the territory on the outskirts of the city of Abu Kemal, located in the province of Deir ez-Zor near the border with Iraq. By evening, the sweep of the city was completed. In addition, the settlement of Wadi Ali on the east coast of the Euphrates passed under the control of the CAA. At that time, the igilovts continued to evacuate their leaders from the Abu Kemal district. According to military sources, the terrorists Abu Hassan Al-Iraqi, Saddam Al-Damal and Abu Samiya Al-Ansari, who hold major positions, were taken out.
The militants of the group "Dzhebhat An-Nusra" (banned in the Russian Federation), which controls almost all the major cities of the province of Idlib, continued to terrorize the civilian population of Idlib. In the first half of the day, it was reported that the residents of Jisr Ash-Shugur were left without water, because the waterworks had ceased to function due to lack of fuel. The Islamists looted areas of the city in order to secure their troops. Later, the radicals provoked clashes with the population of the city of Saraqib, capturing the territory of the food market.
IG terrorists based in the Syrian-Turkish border on the territory of the SAR attempted to get into Iraq to areas controlled by the pro-government forces of Hashd al-Shaabi. However, the radicals could not pass unnoticed - the militia opened fire on the militants and thereby thwarted their plans.