WADA, in the person of head Jonathan Taylor, declared Russian Olympic doping war. She put out an ultimatum: recognize the McLaren report as true, and Russia in this report is a criminal doping organization. And surrender to the will of the winner Jonathan Taylor.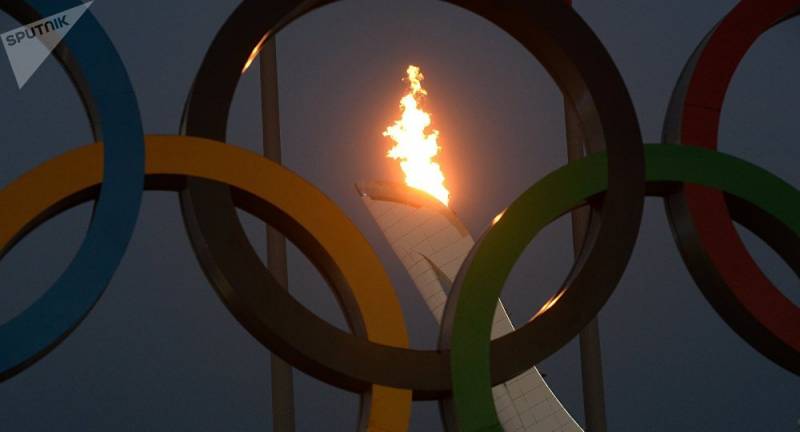 The question is simple: will Russia fight or not? Will she go to the Olympic War or not? Boycotts or surrender? While we are thinking, we are waiting for the decision of the IOC and its head Bach on Russia's participation in the Winter Olympics in South Korea. Perhaps this is correct, there is no need to hurry. However, this does not apply to our public opinion and journalists of all Russia.
It may be recalled that the United States had long promised to strike Russia at the front of "soft power", after they themselves suffered significant damage from RT and other "soft power" and particular popularity in the West of Russian President Vladimir Putin. The fierce attacks on Putin are connected precisely with his popularity in the West: he is being attacked in order to crush his dissidents. And now they have delivered the promised doping strike to us through the WADA-controlled US and its satellites.
The goal is obvious: to discredit Russia, to select the Olympics, and then the championships, and in general the world sport. Forcing to make fundamental concessions in politics.
Our humanists are now crying out for common forces in the West, hoping that they will take our side? That is unlikely. They will be branded as traitors and "agents of Putin," even the president of the United States was branded! Therefore, the question arises in full growth: when will we start to call things by our real names?
And we admit the fact: the Olympics became the front of a hybrid war. War is aggression, a small choice: either become a victim of aggression, or fight. Russia is still pursuing a policy of "not forcing". At the state level, this may be justified, but this does not apply at all to the publicist workshop, we are a free country? At this level, there should be another policy: to give back, only then will begin to respect our interests in general, and in sports in particular.
In war, as in war: you need to answer, otherwise they will finish. Proudly not to go to the Olympics, or proudly to come, without a flag and a hymn? In any case, the world fake news wrapped it against Russia, and RT resources to confront them around the world is not enough.
In connection with the WADA attack, a natural and stronger answer suggests itself: to hold alternative Goodwill Games in Sochi at the same time for all dissatisfied with the Olympic machinations of WADA, the United States and the captured IOC, where Russia could even put up two teams for ensure competition. With a similar prize pool.
Strictly speaking, the United States carried out an informational attack on Russia by conducting a massive information campaign. Protection in this case should be similar: response information campaign. Yes, it will raise the general degree in the ward, but there is no other way out. Either we will defend ourselves, or we will be outlawed. Whatever this war is over, it is better to suffer, as comrade Sukhov said.
We need to start an information campaign to discredit WADA and all American and Western sports, there is plenty of information about its doping pumping. The United States, their accomplices can and should be accused of blackmailing Russia with admission to the Olympics to achieve self-serving political goals. Apparently, they are seeking, in the first place, the occupation of Donbass. They want blood Donbass! New Srebrenica! Kurt Volker threatened: if Russia does not go for the American version of the solution of the Ukrainian crisis, it will be subjected to isolation. So we see an attempt at sports isolation.
They say that if Russia starts such a war, our athletes will suffer. They are already suffering, and will always suffer, if Russia is defeated in this sport war. There will be no mercy, and there will be no justice to the vanquished. This is not in the traditions of the West.
On the other hand, our athletes are no longer quite athletes, but warriors of sports war, and it is necessary to endure its struggle. Not all of this will endure: someone deserts, loses his temper, surrenders as a prisoner - and this happens in ordinary war. But there is no other way! You may have to create world sport organizations alternative to international ones, and in fact Western ones, if you cannot reach the sporting world.
You can even offer a space response to the Olympic attack on Russia: take space from the United States, refusing to be placed on Russian spacecraft. It will be so asymmetrical! Our politicians close to the Kremlin say that Russia is running out of strategic patience ...
There is a war of sport,
Hybrid War!
WADA scum
They will answer us in full!