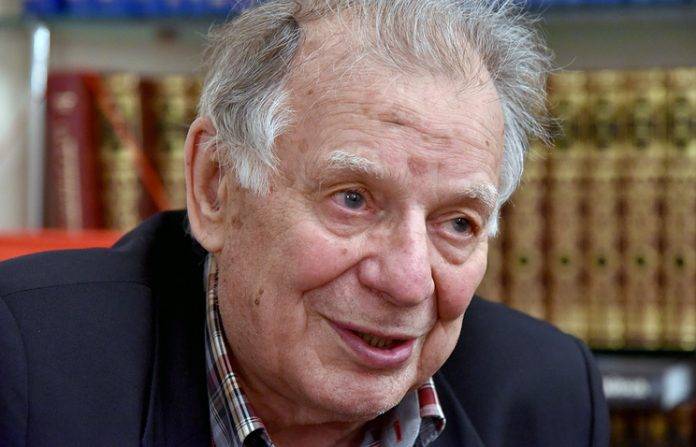 To worship not success, but knowledge
Dmitry Pisarenko, AiF: Zhores Ivanovich, I will start with an unexpected question. They say that this year the Ukrainian site "Peacemaker" included you in the list of people disliked to enter the territory of Ukraine? But you have a brother buried there.
Zhores Alferov: I have not heard about this, it will be necessary to find out. But this is strange ... I have a foundation from which scholarships are paid to Ukrainian schoolchildren in the village of Komarivka, Cherkasy region. Not far away, in a mass grave near the village of Khilki, my elder brother, who volunteered to the front and died during the Korsun-Shevchenko operation, was indeed buried.
In Ukraine, I used to be every year, I am an honorary citizen of Khilkov and Komarivki. Last time I came there in 2013, along with foreign scientists. We were very warmly received. And my American colleague, the Nobel laureate Roger Kornberg, after talking with the locals, exclaimed: "Jores, how could you share? You are one people! "
What is happening in Ukraine is terrible. And in fact, threatens the death of all mankind. For the whole planet now is the black time - the time of fascism in various forms. In my opinion, this is because there is no longer such a powerful deterrent as the Soviet Union was.
- Who is holding back?
- World capitalism. You know, I often recall a conversation with the father of my old friend Professor Nick Holonyak, held in 1971, when I came to them in an abandoned mining town near St. Louis. He told me: "At the beginning of the twentieth century. we lived and worked in terrible conditions. But after the Russian workers staged a revolution, our bourgeoisie were frightened and changed their social policy. So American workers live well thanks to the October Revolution! "
- Is there any evil smirk
stories
? After all, for us this grand social experiment was unsuccessful.
- One second. Yes, it ended unsuccessfully because of the betrayal of our party elite, but the experiment itself was successful! We have created the first state of social justice in history, this principle has been implemented in practice. Under the conditions of a hostile capitalist environment, which did everything possible to destroy our country, when we were forced to spend money on weapons, on developing the same atomic bomb, we came in second place in the world in food production per capita!
You know, the great physicist Albert Einstein published an article "Why Socialism?" In 1949. In it, he wrote that under capitalism "production is carried out for profit, not consumption". Private ownership of the means of production leads to the emergence of an oligarchy, and the results of the labor of others are taken away according to the law, which turns into lawlessness. Einstein's conclusion: the economy should be planned, and the tools and means of production - public. He considered the greatest evil of capitalism "mutilation of the personality" when in the educational system students are forced to worship success, not knowledge. Not the same thing happening with us now?
Understand, from the fact that the Soviet Union collapsed, does not mean that the market economy is more effective than planned. But I would rather tell you about what I know well - about science. Look where we had it before and where now! When we first started making transistors, the first secretary of the Leningrad regional party committee personally came to our laboratory, sat with us, asked: what was needed, what was missing? I made my work on semiconductor heterostructures, for which I was then given the Nobel Prize, I did before the Americans. I overtook them! I came to the States and lectured them, and not vice versa. And we started production of these electronic components earlier. If it were not for 90-ies, iPhones and iPads would now be released here, and not in the United States.
- Can we still start making such devices? Or is it too late, the train left?
- Only if we create new principles of their work and then we can develop them. American Jack Kilby, who received the Nobel Prize in the same year as I, laid the principles of silicon chips at the end of 1950's. And they still remain the same. Yes, the methods themselves have developed, become nanoscale. The number of transistors on a chip has increased by orders of magnitude, and we have already approached their limit value. The question arises: what next? Obviously, you need to go to the third dimension, create bulk chips. Anyone who masters this technology will make a breakthrough and be able to make the electronics of the future.
- Among the Nobel laureates of this year again there were no Russians. Should we sprinkle ashes on our heads because of this? Or is it time to stop paying attention to the decisions of the Nobel Committee?
- The Nobel Committee never deliberately offended us and did not bypass us. When it was possible to give an award to our physicists, they were given. There are so many Americans among the Nobel laureates simply because science in this country is generously funded and is in the sphere of state interests.
And what about us? Our last Nobel Prize in physics was given for the work that was done in the West. This is a study of graphene, conducted by Geym and Novoselov in Manchester. And the last prize, awarded for works in our country, was given to Ginzburg and Abrikosov in 2003, but these works (on superconductivity) date back to 1950 years. I was given a prize for the results obtained at the end of 1960's.
Now we don't have the work of the Nobel Prize level in physics. And the reason is the same - the lack of demand for science. It will be in demand - scientific schools will appear, and then Nobel laureates will follow. Say, a lot of Nobel laureates came out of the firm "Bell telephone". She invested heavily in basic research because she saw prospects in them. Hence the prize.
Where is nanotechnology?
- This year, something incomprehensible was happening around the election of the President of the RAS. Candidates would recuse themselves, elections were postponed from March to September. What was it? They say the Kremlin has imposed its candidate on the Academy, but it did not pass under the statute, since it was not an academician?
- I find it difficult to explain why the candidates began to refuse. Probably something like that really happened. Apparently, they were told to give up.
How were the elections during the Soviet era? Comrade Suslov came to the Academy and said: "Mstislav Vsevolodovich Keldysh wrote a statement asking to release him from the duties of the president for health reasons. You choose who will occupy this position. But it seems to us that a good candidate is Anatoly Petrovich Alexandrov. We cannot insist, we simply express our opinion. " And we chose Anatoly Petrovich, he was a wonderful president.
I believe that the authorities should either take the solution of this question on themselves (and do it as it was under Soviet rule), or give it to the Academy for consideration. And playing such games is the worst option.
- Do you expect a change for the better after the election of a new president?
- I would like to, but it will not be easy. We have chosen a very reasonable president. Sergeev is a good physicist. True, he has a small organizational experience. But the other is worse - it is in very difficult conditions. As a result of the reforms, a number of strikes have already been inflicted on the Academy.
The main problem of Russian science, which I don't get tired of talking about, is the lack of demand for its results for the economy and society. It is necessary for the country's leadership to finally pay attention to this problem.
- How to achieve this? You are on good terms with President Putin. Does he consult with you? Maybe calling home? It happens?
- Can not be. (He is silent for a long time.) Difficult question. The country's leadership should, on the one hand, understand the need for a broad development of science and scientific research. After all, our science often made a breakthrough primarily because of its military applications. When making a bomb, it was necessary to create rockets and electronics. And electronics then found application in the civil sphere. The industrialization program was also broad.
On the other hand, the authorities should support, first of all, those scientific directions that will pull a lot of other things with them. It is necessary to identify such areas and invest in them. This is a high-tech industry - electronics, nanotechnology, biotechnology. Investments in them will be win-win. Let's not forget that we are strong in software. And the shots still remained, not all went abroad.
- Do we need to return scientists who have achieved success in the West, as Putin has recently said?
- I think that is not necessary. For what? What we ourselves can not grow talented young people?
"Well, the newcomer receives the government's" megagrant ", with this money he opens a laboratory, attracts young specialists, trains them ...
- ... and then sheds back! I myself faced this. One owner of the "megagrant" worked for me and faded. They will not stay in Russia anyway. If a scientist succeeded somewhere in another country, he most likely got a family there, a multitude of connections. And if he did not achieve anything there, then, one wonders, why do we need him here?
"Megagrants" of the government are aimed at attracting people of the middle generation to science. We really have very few of them now. But I think we can train them ourselves. Several of my guys, after graduating from graduate school and magistracy, headed such laboratories. And in a couple of years they became this very middle generation of researchers. And they are not going to leave anywhere! Because they are different, they grew up here.
- Trying to evaluate the achievements of modern Russian science, people often ask: "There's Rosnano." Where are the notorious nanotechnologies? "
- When we have a real e-corporation, then there will be nanotechnology. What does this bourgeois Chubais understand in them? What can he do? Only privatize and make a profit.
I will give you an example. The first LEDs in the world appeared in our laboratory. And it was Chubais who privatized and sold the company, which was created to revive the production of LEDs in Russia. And it instead of adjusting the production.
- The new president of the Russian Academy of Sciences proposes to charge money for science from commodity corporations. What do you think about this?
- Just ordering corporations from above to allocate money for science is not the best way. The main thing is to create a new economy, to make it high-tech. Putin called the task of business the creation of 25 million jobs in the high-tech sector to 2020, and I would add myself: these are also tasks of science and education. It is necessary to increase the budget allocations for them.
As for corporations, they should, together with scientists, determine the necessary research directions. And to put funds for these studies in the budget. In the USSR, instead of state corporations there were industrial ministries. Being interested in our results, they gave out money to scientists when they saw that there could be something promising for them from scientific research. We concluded economic contracts for large sums, gave us our equipment. So the mechanism is worked out.
It is necessary to make the results of scientific work relevant. Although it is a long way.