We know little about this meeting in Belgrade. Vladislav Surkov was extremely brief: "We discussed in detail the Russian initiative to deploy UN forces in Ukraine. American friends submitted their proposals to our Security Council draft resolution - twenty-nine paragraphs. Three of them, our delegation found acceptable. A bit, of course. Still, the three are not zero. Better than zero. "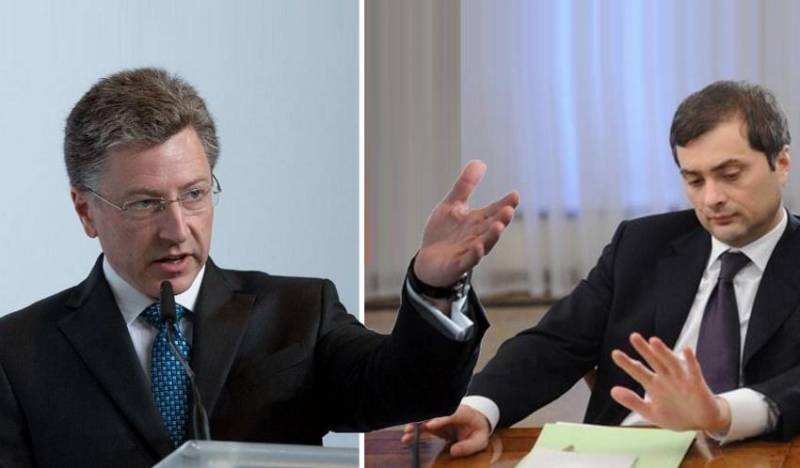 Kurt Walker did not say anything about this meeting. And there is a leak about this secret evening at a high level, but from very unreliable sources, but due to the lack of other leaks, one has to eat what is ...
"Vladislav, we consider it necessary to introduce peacekeepers, very respectable ones, from Canada to Donetsk and to Lugansk," said Kurt Volker, while Surkov thoughtfully read the documents presented by the American, "to stop the sufferings of the civilian population there. Only twenty thousand with some attached technology, they will maintain order until the establishment of the legitimate authority after the elections. And disarm those who lead this terrible indiscriminate fire on peaceful people.
"We guarantee security to all ethnic minorities, including Russians, everyone will have a lot of food and Coca-Cola," Volker smiled broadly in American style.
Surkov finished reading and looked at Kurt with interest:
- Are you German by origin? And you know that your grandfather fought on the Eastern Front, was captured, and did a lot for our victory, our historians have recently unearthed. Here are his reports on the work done, we give you as a keepsake, - Vladislav put a red folder on the table, on which there were three letters: the KGB.
"You composed the ultimate ultimatum, as my prophets from the Foreign Ministry predicted to me." You know, Sergey Lavrov is not very pleased with you, he will complain to Tillerson. He promises to cut off the oil for him, and you ... I do not even know what they will cut you. You take care of yourself.
"Is Tillerson your agent too, like Trump?"
"Of course, you are our agent too," Surkov smiled softly, "our hackers are already making you a suit." I was joking, - while Vladislav grinned and pointedly pointed at the lapel of his suit.
- We will consider the first three paragraphs; we veto the rest, as in the UN Security Council: we cannot guarantee the safety of your contingent. In the same place there are mines in which sometimes the whole battalion of the Armed Forces of Ukraine collapses. With heavy weapons. And silence ... can you imagine?
Surkov paused, as if giving Kurt an opportunity to present this terrible picture, straightened the badge on his lapel, and suddenly said loudly:
"Dear friend, we have a counter offer to you," Vladislav pushed Kurt into a green folder, "we suggest introducing Belarusian peacekeepers, notice, not to Kiev, where your embassy and the CIA are, but just to the borders of Lugansk and Donetsk regions. Okay This is your new assignment, dear Kurt, good luck. Hello tillerson
- But Vladislav, how will the Belarusian peacekeepers cooperate with the Armed Forces of Ukraine? Without Coca-Cola? We have a different concept of settlement in the Donbas. What will I say to Tillerson?
- Dear Kurt, I noticed it. Tell Tillerson that Belarus is much closer to the Donbas than Canada. And for the APU do not worry, they will worry about the civilian population, they have long-standing accounts.
Surkov stood up and bowed out, putting a business card on the table on which it was embossed in large letters: Our cause is just - the enemy will be defeated!
- Call!
After this conversation, Kurt Walker does not get in touch for a long time ...