On the eve of the ceremony of launching the lead missile submarine strategic cruiser of the Borey-A project. This is the nuclear submarine missile cruiser Prince Vladimir, which was withdrawn from the boathouse of the Sevmash shipyard in Severodvinsk. The ceremony was attended by Commander-in-Chief of the Russian Navy Admiral Vladimir Korolev, Governor of the Arkhangelsk Region Igor Orlov, representatives of the command of the White Sea Naval Base of the Navy, general director of the Central Design Bureau MT Rubin Igor Vilnit, general director of the Design Bureau Malakhit Vladimir Dorofeev and other officials. In addition, the ceremony was held with the participation of sailors of the North
fleet
and members of their families.
Department of Communications and Information
MO RF
cites the statement of the commander-in-chief of the Russian Navy:
The conclusion from the boathouse of the lead missile submarine cruiser Borey-A project "Prince Vladimir" is the result of the highest professionalism of the Sevmash shipbuilders, who create an oceanic nuclear missile shield here on Pomeranian land. It is symbolic and significant that this event opens the stage of preparation for the great
historical
date in the history of the Navy - the 60th anniversary of the Russian nuclear submarine fleet, which we will celebrate in 2018. It is also important to note that behind the Sevmash's back 78 years of unique shipbuilding experience, 132 nuclear submarines, 41 diesel-electric ones. As an unrivaled example of the capabilities of your enterprise, the strategic nuclear missile cruiser Dmitry Donskoy took part in the Main Naval Parade in Kronstadt. The start of the construction of the Borey-A project nuclear submarine-rocket carriers is proof that the Russian school of submarine shipbuilding has maintained and is developing its best traditions, the foundation of which is brilliant work and the high responsibility of scientists, designers, shipbuilders. All this in combination allows you to keep up with scientific and technological progress, and often overtake it by several steps. We know what we need to successfully complete tasks at sea, and you build ships that allow us to effectively ensure a naval presence in the oceans. Thanks to this understanding, the equipment of the Russian Navy's strategic nuclear forces with modern submarines exceeded 80%.
Admiral Korolev added:
The creation and construction of a series of strategic missile submarines of the Borey-A project, and then the creation of the Borey-B submarines with the subsequent construction of 5 nuclear submarines of the X-th generation are justified by the provisions of the Marine Doctrine of Russia and aimed at maintaining the high level of equipment of strategic submarine groups in the Pacific and Northern fleets. This task was assigned to us by the Minister of Defense of the Russian Federation and we will carry it out.
According to the commander-in-chief of the Russian Navy, the St. Andrew's flag is now seen in different points of the World Ocean: from the Arctic to southern latitudes. Korolev noted that if in the 2013 year the naval content of the warships of the fleet was 5,9 in thousands of days, then in an incomplete 2017 it surpassed the mark in 17 in thousands of hours. Held around 500 tactical exercises and training.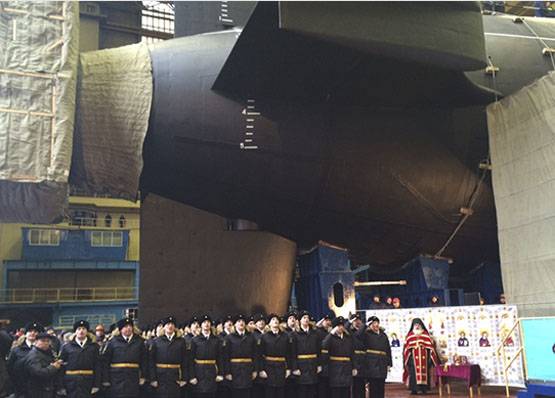 Commander of the Russian Navy:
These figures indicate that we returned to the sea, as befits the Navy of the state with the longest sea border. Without selfless, responsible work of shipbuilders, this would be impossible!
Today, Sevmash is working on the creation of more 4-x serial nuclear submarines of the Borey-A project: Prince Oleg, Generalissimo Suvorov, Emperor Alexander III, Prince Pozharsky.