The Embassy of the Russian Federation to the United States issued an official appeal to the US authorities. Employees of the Russian diplomatic mission after registration with the US Department of Justice on RT and the relay company Reston Translator (partner of the Sputnik news agency) as "foreign agents" called on Washington to stop restricting freedom of speech.
RIA News
quotes a message from the Russian Embassy in Washington:
We urge the US authorities to stop the practice of restricting press freedom in relation to the Russian media. We also caution against the introduction of individual restrictions against our journalists in the United States. (...) It is obvious that now they are trying to intimidate American commercial structures that work with our media resources.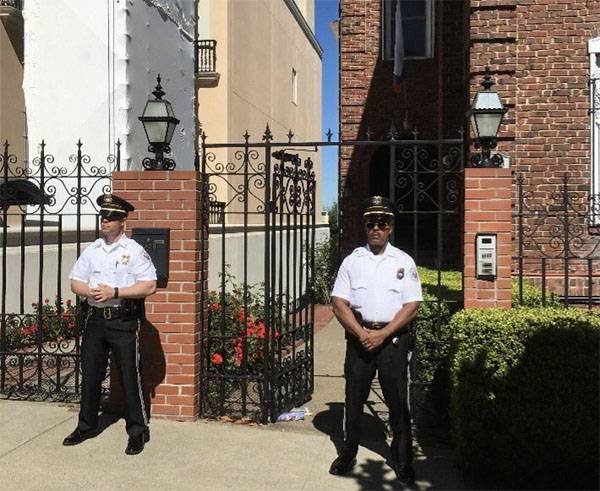 In the photo - the American police in front of the Russian consulate in San Francisco
Reston Translator has American jurisdiction. The US supervisory authorities obliged her to register as a foreign agent, as she is engaged in broadcasting the content of the Russian news agency. Apparently, in the USA the day is not far when the number of "foreign agents" will include ordinary Americans who read and watch foreign content.
Russian experts note that the United States is on the road, which at one time decided to go to the USSR, hanging an "iron curtain".