The first modernized submarine cruiser (the fourth in a row in the Boreev family) of the 955A project, the Prince Vladimir, was withdrawn from the shed of the Sevmash defense shipyard and launched.
As the official representative of the Russian Navy, Captain 1 of rank Igor Dygalo, said, after the withdrawal from the slipway, the nuclear-powered submarine carrier Prince Vladimir will pass all the necessary stages of factory and state tests, which will be provided by the Sevmash enterprise crew and the formed crew of the submarine under the command of 2 captain rank Vladislav Druzhina.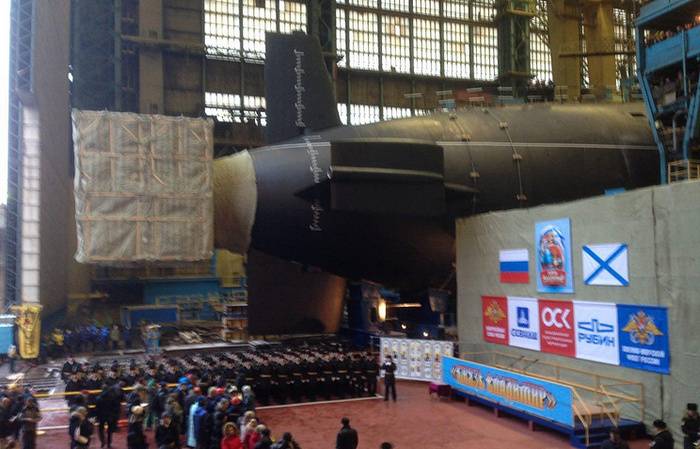 The ceremony was attended by the Commander-in-Chief of the Russian Navy, Admiral Vladimir Korolev and the head of the Rubin Central Design Bureau, who created the Borey project, Igor Vilnit. The general director of the plant, Mikhail Budnichenko, traditionally gave the command to bring the missile carrier out of the slipway.
The creation and construction of a series of strategic missile submarines of the Borei-A project, and then the creation of submarines of the Borei-B project with the subsequent construction of fifth-generation nuclear submarines is justified by the provisions of the Russian naval doctrine and is aimed at fulfilling the task of maintaining a high level equipping groups of strategic submarines in the Pacific and North
fleets
- said Korolev.
The underwater strategic rocket carrier Prince Vladimir was laid in 2012 year. It will become the fourth submarine in a series of eight Boreev and the first representative of the improved Borey-A project.
The naval structure of the Navy already has three SSBNs of the 955 "Borey" project - "Yuri Dolgoruky" as part of the Northern Fleet, "Alexander Nevsky" and "Vladimir Monomakh" - as part of the Pacific Fleet. The RPSKN of the 955 and 955А projects are armed with Bulava intercontinental ballistic missiles.
As the deputy head of the Navy, Viktor Bursuk, said earlier, the submarine cruiser Prince Vladimir is scheduled to be transferred to the fleet in 2018, TASS reports.