The designers completed the development of documentation for a modified version of the Tu-22М3 bomber — the Tu-22М3М; the first deep modernization of airplanes in service will begin in the 2018 year. Tu-22M3M will receive a modern high-precision
weapon
, its radio-electronic equipment and engines will be the same as those of the newest Tu-160М2, a source in the Russian military-industrial complex said.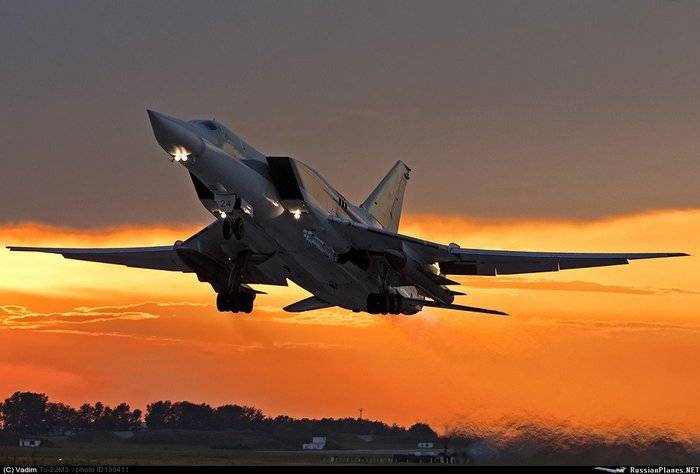 The production of documentation for the Tu-22М3М is completed, production is being prepared at the Kazan Aviation Plant for the repair and modernization of bomber planes located in the Air Force of the Russian Federation. The first deep modernization of these aircraft from the time of their creation will begin next year.
- Said the source agency.
He noted that "the Tu-22М3М avionics complex will be completely new and unified with the Tu-160М2".
This applies to all avionics, including navigation and sighting system
- clarified the source, stressing that after upgrading the Tu-22М3М will be able to use "modern long-range high-precision weapons."
The power plant, according to him, will be Tu-22М3М identical to Tu-160М2 (new engines НК-32-02 of Samara Kuznetsov PJSC).
The source noted that the terms of modernization and the number of updated aircraft depend on "the capabilities of the plant, on how the work on the first machines will go." Official confirmation of this information has not yet been reported.
Earlier it was reported that up to the level of Tu-22М3М 30 airplanes will be upgraded, which will accommodate the new on-board equipment complex SVP-24-22, HB-45 radar, will improve cabin ergonomics, install new on-board systems, extend the life of the airframe to 35 years. The aircraft can carry precision non-nuclear weapons, including the X-32 cruise missile with a range of up to 600 km.
The long-range supersonic bomber bomber Tu-22М3 is a deep modification of the Tu-22 aircraft. Developed by the Tupolev Design Bureau in the middle of 1970's, made the first flight of 20 on June 1977 of the year, was adopted in 1989. Maximum speed - 2000 km / h, ceiling - 13,3 thousands of meters, combat load - up to 24 tons (X-22 and X-15 missiles, bombs, sea mines).
Total 268 released such aircraft. Currently, according to the magazine The Military Balance, there are 62 Tu-22М3 in the Air and Space Forces of Russia. They are actively used in the Syrian campaign, striking at various objects of terrorists, reports TASS