The press service of the Western Military District reports that the ultra-long and super-long flights have been carried out by the crews of the Russian Federation Air Force Fighter. We are talking about the crews of the MiG-29SMT aircraft of the fighter regiment stationed in the territory of the Kursk region. Worked out the implementation of training flights, the maximum permissible both in range and in time.
From the message
press service ZVO
:
Each crew spent more than 3,5 hours in the air. In total, during training flights, the fighters covered a distance of about 31 thousand kilometers. The flights were carried out by mixed crews consisting of experienced and young pilots, which made it possible to work out more 15 in the air for introductory emergency situations with engine fire extinguishing, navigation equipment and pointing equipment failure. . All actions of the pilots were controlled by the flight control center.
It was noted that the pilots acquired the skills of superlong flights over the central regions of the Russian Federation. In total, combat training tasks were performed by more than ten crews of the Russian Aerospace Force.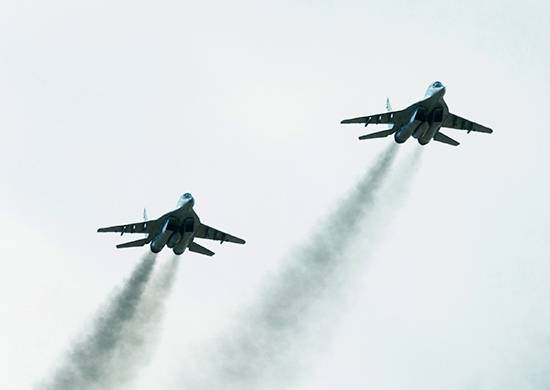 For reference: The MiG-29SMT is a 4+ generation multipurpose fighter with a number of improved parameters and characteristics. This is both the flight range and the maximum take-off weight, the mass of the combat load. On board the MiG-29SMT, a modern complex of onboard and radio-electronic equipment is used, an extended spectrum is used
aviation
weapons, including air-to-air and air-to-surface guided missiles.