But if you are an up-and-coming fanatic, you can continue shouting "Collapse! Corruption! Catastrophe!". By this, you unwittingly work to support the EPRS, so we do not mind.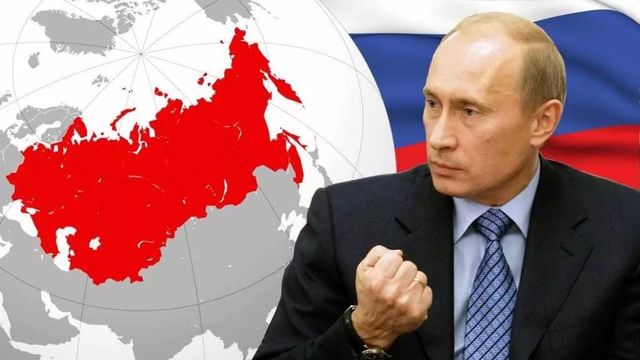 Keep calm and believe in Russia.
When I write about the Russian Federation, I have several advantages over "local" experts.
Firstly, I have not lived in Russia continuously all these years, and since 1987, I have come here periodically, so I saw all the changes especially distinctly, discretely. Unlike Russian experts, who, like the toad from the parable, which is cooked slowly, were cooked in it continuously. Therefore, my eyes are not zamylen.
Secondly, I am not a member of any party or movement, so I do not have to comply with certain group norms, behavioral or ideological.
Thirdly, contrary to the rumors spread about me, I do not work for anyone, I have independent sources of income, which allows me to be as independent as possible in my judgments.
Which, for its part, gives rise to some difficulties, because I have no "sponsors" or "hairy paws" who would promote me to television or mainstream media. But I'm not complaining, because I can remain myself, which is more valuable to me.
So, after such a long introduction, I want to summarize some of my observations of the Russian reality (to perceive them or not is a personal matter for everyone):
1. Several of my trips to Russia after 1998, I see that every time she is prettier. In 1993 and 1998, these were gangsters on the "geldings" and "boomers", casinos, tasteless neon advertisements, prostitutes sticking right on the streets, poverty, alcoholism and crime in the suburbs. With each subsequent trip to Russia, the situation changed dramatically for the better.
And by 2008, everything changed dramatically - it was "heaven and earth." If in 1998 I read the same Kalashnikov-Kucherenko about the "rusty pipe" and "resource colony", then when I read the same thing from him for the last few years, then it caused only bewilderment and outright pity - the person was mentally stuck in the nineties and more and more away from reality (like many other representatives of the same party, who could not escape from the once laid ideological rut).
2. The impression of a man who came from Ukraine: the Russians zazhralis. Here is the part that is forever unhappy with everyone and whines endlessly - exactly. And in real life, electronic queues are everywhere, automation of all bureaucratic processes, a person receives all the papers he needs practically without contact with officials, quickly, efficiently and politely (except for the FMS, there was a mess, but there are also reforms).
The courts work, the police are polite and correct, the state machine works like a well-established clock. There is work, salaries are several times higher than Ukrainian ones. Personally, I know a number of engineers who receive thousands of 100-150. The "highly paid engineer" in Ukraine was an unfunny joke even before euromaidan, to say nothing of today's realities.
Again, straight lines with the president, after which all the voiced problems are magically solved - this is wonderful. From feedback and control, it is also necessary to note the tremendous work that ONF is doing (and which for some reason is completely not covered by the media). They have a lot of projects to track various issues, starting with holes on the roads and late payment of salaries and ending with environmental monitoring. And this is not window dressing, but people vpahivayut black.
3. Well, the main point for which the article was started: in Russia everything is not as it seems.
I tried not to develop this topic, because then she and the "Great Russian Smoke Curtain" (VRZH), but once Khazin had already publicly voiced, then apparently I can.
Well, maybe not all, but very much. Examples of mass.
3.1. The economy is of a "crisis" type, but foreign exchange reserves are steadily growing.
3.2. "No money," but two weeks after this phrase, pensions are raised.
3.3. "There is little investment," but across the country there are a lot of infrastructure construction projects — roads, power stations. The foundation for the technological leap is clearly laid (if you are not in the know, then each subsequent technological pattern requires more and more energy, without exceptions). And on TV about these sites are not particularly spread.
3.4. "Serdyukov is a corrupt bureaucrat," but the foundation for a qualitative increase in the combat capability of the army was laid under him. For which Comrade Taburetkin deservedly received an order.
3.5. In words, the government speaks about privatization, but in fact there is a soft nationalization and the share of state property in the economy is growing rapidly (I have already written three articles with proofs to whom this is not enough - these are his personal problems).
3.6. Officials lament at Putin's meetings that "nonmarket pricing" is in the gas sphere. What Putin has to tear them off and with pressure in his voice to declare "everything is market-based." Look what you think, tell the truth!
3.7. When sanctions were imposed against Russia, it suddenly turned out that the government had two reserve funds, in the accounts of which "only" two hundred billion dollars. For some reason, no one asked the question "Where did they come from?". They just came out of thin air, and no one (except me, but I kept silent) was not surprised.
And how many more such funds are there, about which nobody knows? I have suspicions, but I may not know about everyone.
Remember how in the "Crown of the Russian Empire"? "You ask me how many exits there are from the catacombs by the sea? Fima knows five, I am twelve, and my dad, who is frying pigs there, is eighty-six. " So here it is.
3.8. When investments were needed in the extraction of nickel, then Glencore acted as a foreign investor. Guard-patriots, this is very outraged ("Homeland is sold" and other crying Yaroslavna on the training manual). But I remember very well that the "Swiss" company "Glencore" founded the KGB of the USSR to circumvent the previous US sanctions - through it they bought mining equipment and other equipment for Soviet enterprises.
And after the collapse of the USSR, it remained "gebist". So the "bloody gebnya" simply transferred money from pocket to pocket, returning a little finance home.
You can talk about "Glencore" because Americans have long been aware of (and at one time they were pursuing, but without success, its formal / fictitious owners). And how many such offices, founded by the KGB of the USSR, are there besides her? See above for exits from the catacombs.
3.9. A professional auditor asked Khazin where the money came from for all these construction projects that go all over Russia? To which Comrade Khazin replied that "Do you think that Olympic facilities really cost so much?"
In the film "Independence Day," when the American president is shown an underground base on which aliens are being investigated, he asks, "What kind of money has it been built on?". They answer him, "Do you really think that in the army a toilet bowl costs 10 thousand dollars?". In America it is in the film, but in Russia it is in reality.
3.10. And we should not forget that Putin, Ivanov, Naryshkin, and the rest of the so-called "Lake" cooperative are professional intelligence officers, specialists from the C of the USSR KGB (lines "L" and "H"). They are trained to act illegally, to confuse the enemy and to pretend not to be who they really are. For example, they can pretend to be oligarchs or corrupt officials.
Forms of resistance to occupation can be very different. In one of Heinlein's novels, it was proposed to create a special church institute to cover up the Resistance movement.
In general, I have the impression that those who came up with the Great Russian Smoke Curtain (or whatever they call it) got a good classical education and read a series of Paul Anderson's novels about midshipman Flendry and Keith Laumer's Space Sharper.
In conclusion, I would like to recall another scene from the film, this time from "Casanova". There, the Supreme Inquisitor, having first seen a balloon, begins to shout "Sorcery!". To which his assistant first tries to explain that "This is just hot air, heating up, becomes light and rises upwards", but then he sees the dull twisted face of his boss, abruptly breaks off himself and agrees "Sorcery!".
So I lazily explain that what is actually happening is many years ago a operation designed by a number of KGB officers of the USSR to intercept power from the Yeltsin occupation administration and the subsequent tricks of the Americans leading to the restoration of Russia's sovereignty, including a careful revival and development of the defense potential, economic self-sufficiency and ideological discrediting of "Western values".
But if you are an up-and-coming fanatic, you can continue shouting "Collapse! Corruption! Catastrophe!". By this, you unwittingly work to support the EPRS, so we do not mind.