Russian MTR (Special Operations Forces) are for the first time involved in exercises in the Republic of Tajikistan. This is reported by the assistant commander of the Central Military District Colonel Yaroslav Roshchupkin. Exercises are held in the form of the RRF (Collective Rapid Reaction Forces).
Statement by Colonel Roshchupkina leads news agency
TASS
:
MTR units for the first time involved in exercises in Tajikistan. Special operations force groups deployed to the exercise area of ​​the Russian Aerospace Forces airplanes operate in isolation from the main group of troops on the Kharbmaidon training ground in 15 km from the Tajik-Afghan border with the support of Terminator Mi-8AMTSH helicopters.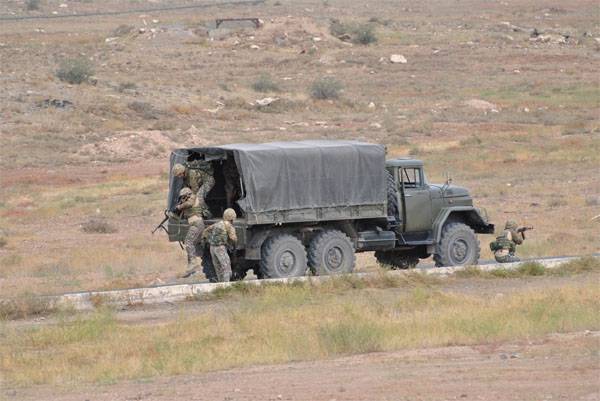 Photo of the CSTO press service with the joint interaction "Interaction-2017"
It is reported that fighters of the MTR of the Armed Forces of the Russian Federation carry out missions to guide the combat
aviation
to the positions of conditional terrorists in mountainous areas, for additional reconnaissance on the ground for further strikes by the Uragan MLRS with the aim of eliminating conditional bandit groups. Separately, there is the task of detecting and neutralizing the leaders of these gangs.
Exercises are held both in the mountains and in the desert. More than 5 thousand military personnel not only from the Russian Federation and Tajikistan, but from Belarus, Kazakhstan, Kyrgyzstan and Armenia take part in them. Used over 1,5 thousand units of equipment, including Tu-95MS, Su-27, Su-30, MiG-31 and other aircraft.
The exercises, as noted, are of an unplanned nature from the complex military-political situation in the region.