The meeting of Volker and Surkov showed that the positions of Russia and the United States in Ukraine are very far from each other, and they need to be brought together. Moscow has made a very strong move with the exchange of prisoners and is waiting for 2019 of the year when it will be fully ready to start its game. And the United States can not wait ...
Exchange of prisoners: the strong move of Russia and ... Medvedchuk
15 November 2017 on the territory of the Resurrection New Jerusalem Monastery special representative of Ukraine in the Tripartite contact group on the peaceful settlement of the situation in Donbass Viktor Medvedchuk at a meeting with Russian President Vladimir Putin, Prime Minister Dmitry Medvedev and His Holiness Patriarch of Moscow and All Russia, Kiril, asked captives.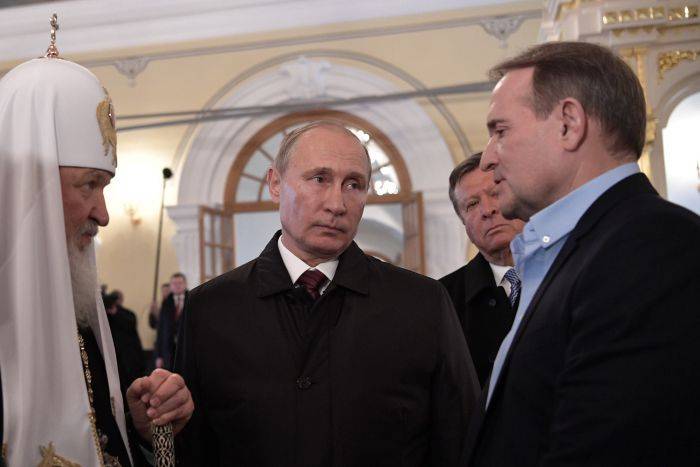 The move was the strongest. The meeting of Kurt Volker and Vladislav Surkov has just ended. Although both sides have made progress, their positions today are very far from each other. And it seems that the US and Russia will not be able to agree until the end of 2019. Why exactly before this date?
First, Donald Trump cannot make concessions to Moscow. This is just what his opponents are waiting for in Washington, which in this case will immediately launch an attack on him.
Secondly, elections will start in Russia, and Vladimir Putin will not make any significant concessions either. Moreover, so far for him on the Ukrainian "front" everything is going pretty well.
Third, Petro Poroshenko also cannot make important concessions, since in this case "patriots" and "opposition" will immediately "eat" him. And he also has choices that he can not lose.
But in the 2019 year, when both Moscow and Kiev will have a pre-election campaign, and in the United States they will again be preparing for the presidential elections, a very convenient situation may arise to reach an agreement. Moscow's trumps at this point will be indisputable, and most likely there will be nothing to cover them.
United States
Americans have a lot worse in Ukraine. They failed in 2014 to draw Moscow into open confrontation, and now they are reaping the fruits of their "victories". Kiev for them is gradually turning into a suitcase without a handle.
In Ukraine, as time has shown, it is easy to enter, it is hard to resist ...
The strategic value of this territory after the construction of Russian bypass gas pipelines for Washington drops sharply. Unfortunately for the Americans, Russia did not manage to quarrel with Europe. On the contrary, with each new year the axis Moscow - Berlin becomes more and more tangible.
Meanwhile, in Ukraine itself, Washington is not able to control the power set by it. Poroshenko's regime has chosen the worst-case behavior for the United States. He launched into all troublesome, and clearly behind the backs of the Americans agreed with the Russians, and now he is doing everything to discredit once and for all the idea of ​​the western vector of Ukraine's integration. At the same time, an attempt to put the regime in place with the hands of Saakashvili and direct American agents (NABU) has obviously failed.
Time is now playing against the United States, and they simply cannot sit and wait for the 2019 of the year when Moscow finishes training. It is necessary to make a move, and there is no time for a mistake anymore.
Strike on elections
One of the most convenient options for American diplomacy could be a sharp worsening of the situation in Ukraine on the eve or right after the Russian presidential election.
And it will not necessarily be an escalation of the conflict in the Donbas. Rather, on the contrary, something can happen on Ukrainian territory that should either push the Russian authorities to intervene, or it will be a strong blow to its image.
For example, some kind of megaprovocation is akin to Odessa (May 2). Although, I think it could be something else.
What does this give Washington? The first and most important is the initiative. The enemy will be forced to respond to American strikes, and sooner or later we can hope for his mistake.
The second. Probably, the strike will create a new large fault line between Moscow and Kiev, which will cancel out the temporary agreements between Poroshenko and Putin and make the conclusion of new ones impossible.
As already mentioned, a blow will be dealt to the image of the Russian authorities. Yes, it will not demolish the regime, but it will greatly narrow the fork of solutions for it and, possibly, force it to abandon the best options.
And one more important moment. It is not the administration that can strike this blow, but Trump's opponents. In this case, they will be able to force their adversary to completely abandon their foreign policy (agreements with Moscow and the confrontation with China) and force them to return to the path that the administration of Barack Obama followed before him.
I am sure that the weakening of Poroshenko's regime, which in this case becomes inevitable, will be used by the Ukrainian "opposition" for an early reboot of power and will add chaos.
Thus, Washington (official or unofficial) has a chance to completely reset the situation in Ukraine. The game of Moscow will be broken, and Kiev will turn into an even bigger problem for the neighboring countries. That is just what Americans need.
How to prevent this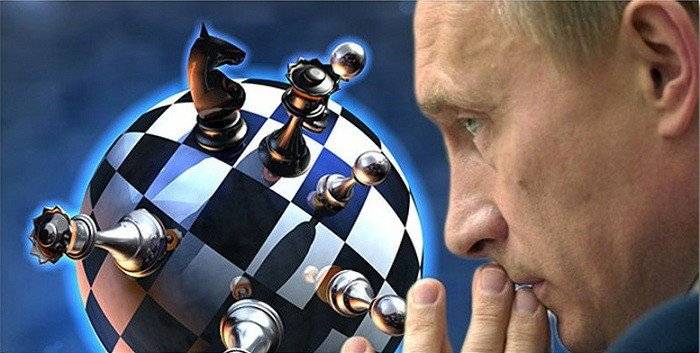 There is no one simple and radical solution. Here we need a set of measures that will either force the enemy to abandon such plans, or reduce the effect of their implementation to zero.
A warning.
One of the most effective solutions is the warning, that is, the preparation of the information space. If you throw into the Ukrainian society the idea that such a plan is not only possible, but also being prepared, then its implementation for the customer can lead to the opposite result. A timely, successful counterplay can force an adversary to abandon his plans. For example, write more analytical articles on this topic.
Preparation of response steps.
The opponent should know that you are ready and for each of his "shah", you will surely give him a "mate". To give up his intentions, he just needs to show his willingness. As an example, I can cite the Little Russia project, which Zakharchenko spoke about several months ago. This is not his impromptu and not stupid. In fact, this is Moscow's response to a possible Nazi coup in Kiev. And if Russia can show its readiness on any of the possible American options, then this will certainly force them to abandon the implementation of their plans.
Counterplay
In the end, the enemy can simply replay and try to impose a game on his terms. Abrupt steps, I do not expect. But the exchange of "all for all" can just be an element of counterplay, which makes the aggravation of the situation not entirely logical. By the way, the possible refusal to go for a second presidential term on the part of Vladimir Putin fits in very well with this additional argument. A blow to the image of a successor is not as important to Washington as a blow to the image of GDP.
We will not think ahead. But there is a danger of a sharp aggravation of the situation in Ukraine. And in order to avoid this, we must act yesterday, which, in fact, is happening ... And therefore there is a chance that we will be able to avoid this scenario.