In several parts of the RCB protection stationed in Eastern Siberia and the Far East, TOC-1А units will be formed, reports
press office
Eastern District.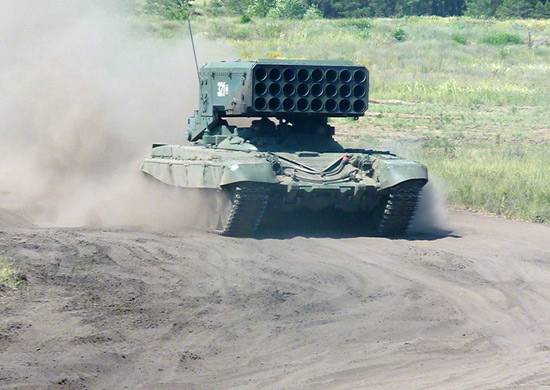 In the Eastern Military District, in several military units of the RCB protection stationed in Eastern Siberia and the Far East, subunits of TOS-1A Solntsepek heavy flame-thrower systems will be created. These units on 100% are planned to be staffed by contract servicemen,
says release.
It is reported that "by the end of this year, the TOC-1A" Solntsepek "on the basis of the upgraded T-72 tracked base will go to the military unit of the RCB protection in the Amur region".
TOC-1А is an improved version of the well-known TOC-1 "Buratino" - it has a more modern system of guides for incendiary and thermo-barometric rockets of 220 caliber of millimeters. The system includes a BM-1 combat vehicle, a TZM-T transport loading vehicle and unguided missile ammunition.
TOC-1А is designed to destroy lightly armored and automotive vehicles, arson and destruction of buildings and structures, the destruction of enemy personnel in open areas and in fortifications with shrapnel and shock waves.