The Russian Space Forces conducted air strikes against terrorists in the northern part of Hama. The Syrian army is fighting in the north-east of Damascus, liberated a number of villages in the province of Hama. Reports about it
FAN
with reference to Syrian sources.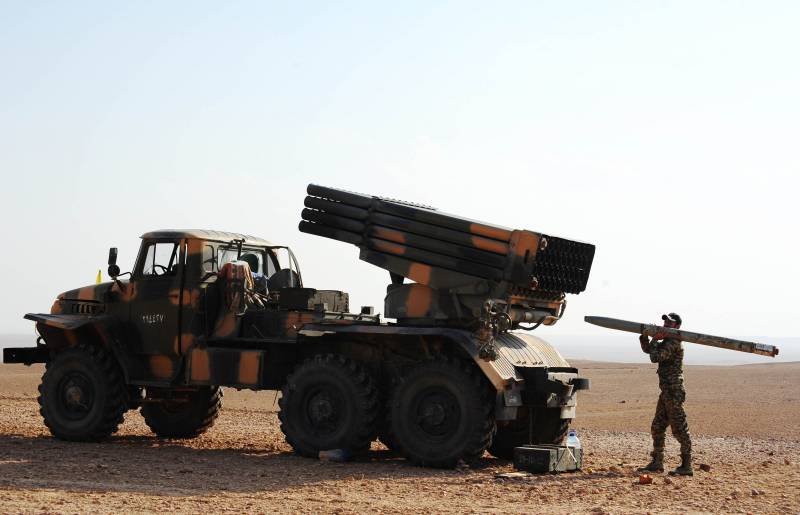 In the past 24 hours, skirmishes and armed clashes in northeast Damascus continued. Fights were noted in the area of ​​Kafr Batna and Harasta settlements. As a result of the precision strikes of the VKS of the Russian Federation, the defense of the militants suffered considerable damage. The capital has once again been bombed by the Islamists. The districts of l-Abbasiin, Bab Toum and Masakin Barze were hit, at least two civilians and several policemen were injured.
At least 20 militants of the IG group (banned in the Russian Federation) and their family members sided with the Kurds, having surrendered to them all their positions near the Al Omar oil field in Deir-ez-Zor province. This was a new confirmation of the existence of a tacit agreement between the Kurds and the United States supporting them on the one hand and the IS militants on the other. Syrian Democratic Forces (SDF) are moving into the provinces, almost without using
weapon
. Thus, the Kurdish units managed to easily approach the settlement of Abu Hammam. Meanwhile, in the city of Deir-ez-Zor, work on demining was completed.
Throughout the day, the Russian
aviation
continued to carry out combat sorties in the vicinity of the liberated city of Abu Kemal. In accordance with the intelligence obtained by the Russian Aerospace Forces, they launched several airstrikes on IS facilities.
In the northern part of Hama, fierce fighting between the radicals of the association led by "Dzhebhat an-Nusra" (grouping prohibited in the Russian Federation) and the Syrian army was unleashed throughout the day. Thanks to the combat sorties of the Russian Aerospace Forces, the village of Qasr al-Shawi, which is located on a hill and of strategic importance, came under the control of ATS forces. After that, government troops under the guise of the Russian Aerospace Forces launched the assault on the villages of Arfa and Al-Rabda. By evening, the settlements were freed. During the battles, "al-Nusra" suffered losses in manpower.
In turn, the Islamists claimed that as a result of the counterattack they were able to again seize the settlement of Sarkh, as well as destroy four
tank
army of the SAR, however, this information has not received confirmation.