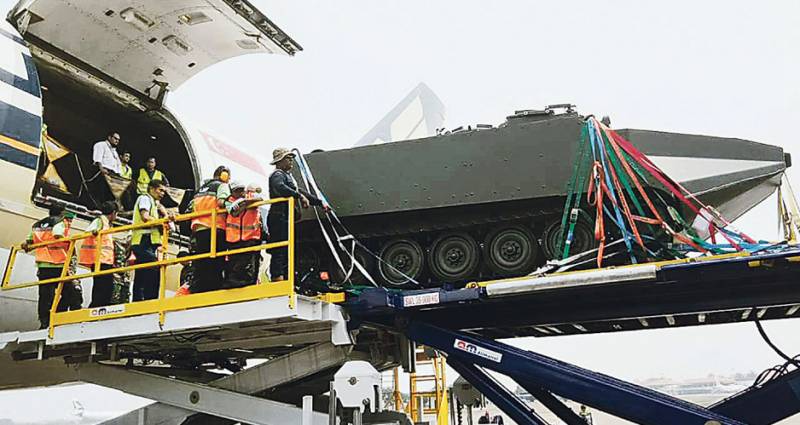 Indonesia is the largest island country in the world. Its Armed Forces are focused both on the fight against numerous separatist movements and on a possible classical war with an indefinite number of potential adversaries.
The Indonesian army is quite archaic, although the country's leadership is trying to modernize it by purchasing equipment from its own military-industrial complex and from major world manufacturers.
weapons
.
Without landing anywhere
The ground forces have a very complex structure due to geography. The basis of the 12 military command areas. They include 9 infantry brigades and numerous separate battalions.
The command of strategic reserves is considered the most powerful component of the Armed Forces and includes the 1st Infantry (composed of the 13th Infantry and 17th Airborne Brigades, 2nd Artillery Regiment) and 2nd (6th, 9th Infantry, 18th Airborne Brigade, 1st Artillery Regiment of the division, 3rd Airborne Brigade. The command of the MTR - 5 groups (regiments) MTR (1st and 2nd parachute, 3rd reconnaissance, 4th training, 5th counter-terrorism). Army Command
aviation
unites the 11th, 21st, 31st squadrons.
Tank
The park has 103 modern German "Leopard-2A4", as well as about 400 obsolete light vehicles - 275 French AMX-13, 15 Soviet PT-76, 80 English "Scorpions". Among 164 BRMs - 18 French VBLs, English Ferrets and Saladins (55 and 69, respectively), 22 latest South Korean BMTVs Tarantul. There are 50 German infantry fighting vehicles Marder-1A3. The BTR fleet, which includes 900 units, has the most of its own Panser - 278, French AMX-VCI - 202, American V-150 and M113 - 200 and 95, Soviet BTR-40 (40 pieces), BTR-50PC ( 34).
The first SAU in the Indonesian army were 37 of the newest wheeled French "Caesar", also there is 18 American М109А4. Towed guns: 144 mountain Yugoslav M48, 54 South Korean KN-178, up to 133 American M101, 50 Italian M-56, 5 Singaporean FH-88, 36 South Korean KN-179 MLRS - 50 own NDL-40, 36 Brazilian Astros-2. Mortars - more than 900. There are a significant number of Soviet and Russian ATGM ("Baby", "Competition", "Metis"), as well as 100 old French "Milan".
In the military 51 air defense, the English Rapira air defense missile system, the Swedish 45 RBS-70, the Chinese TD-8B 2000 (the QW-4 MANPADS on the chassis of the BTR ZBD-05 BTR), the 2 Polish Kobra systems with the Poprad anti-aircraft missiles, and the Chinese Cobra systems with the Poprad CPMs, the Chinese, the Chinese, the Cobra, and the Poprad CPMs, the Chinese, the Cobra, and the Poprad aircrafts. 3, near 500 anti-aircraft guns.
As part of Army Aviation more than 10 light aircraft (1 English BN-2A, up to 7 Spanish C-212, Canadian 1 DHC-5, American Cessna-3 310), 5 of the newest Russian Mi-35P, around 100, 36, 412, 17, 17 helicopters (up to 5 Bell-14, up to 205 Mi-19B105, up to 2 Bell-120, up to 13 BO-300, 1 EC550B, up to XNUMX Hughes-XNUMXC, XNUMXXXXX
Air Force include command: 1-e (Western) and 2-e (Eastern) operational, air defense, logistics, training, as well as special purpose corps, which includes 1-e parachute sabotage and landing wing, 3-e training wing, 90 Group on the fight against terrorism and air piracy.
Armed - 5 Russian Su-27 (2 CK, 3 SCM) and 11 newest fighter-bombers Su-30MK (including 9 MK2), 26 US the F-16 (7 And, 2 in, 12 C, 5 D) and 11 obsolete F-5 (7 E, 4 F), 15 Brazilian light attack aircraft EMB-314. With the size of the country and the dispersion of the islands, such an insignificant number of combat aircraft does not meet even the minimum requirements.
There are 4 maritime reconnaissance (3 "Boeing 737", 1 own CN-235M-220MPA) and 2 tanker (US KS-130В). Transport aircraft mainly from the USA. These are 19 C-130 (up to 6 B, 13 H), 7 Cessna-180 and CN-235-110, 5 Cessna-401 and Cessna-207, 4 L-100-30 Boeing 737 et al., As well as Spanish C-295M and C-2124 (9 and 7), Dutch X-NUMX F-4, to Swiss PC-28 2. Training planes: up 6 Swiss AS-29, to 202 English "Hawk" (up 32 Mk7 to 109 Mk25, the latter also used as a light attack), 209 German Grob-24TR-A South Korean KT-120B (1 units) and T-16 (50), 15 Italian SF-17, to 260 American T-15C.
Helicopters: up to 11 US Bell-47 and European EC120B (12), AS332 (11-12), SA330 (up to 7). The last two models were produced under French licenses in Indonesia itself.
Naval Forces are provided with own ship-building base. In addition, a significant number of ships Indonesia receives from the former metropolis - Holland.
The Navy has German submarines Chakra (project 209 / 1300 - 2 pieces). The Nagapas-type submarine (209 / 1400 project) is still singular, but in the Republic of Korea two more are built under a German license.
Armed - 6 frigates "Ahmad Yani" (Dutch type "Van Speyk", one of the ships is equipped with UVP with the latest Russian anti-ship missiles "Yakhont"), 3 "Fatahillah" (also Dutch built), 1 "Hajar Devantar" (Yugoslav, used as a training), 1 Martadinata (the Dutch project Sigma, another one is expected). Corvettes are 4 newest ships of Dutch construction: "Diponegoro", 15 "Captain Patimura" (former ships of the Navy GDR type "Parchim"), 3 "Boone Tomo" (British built, intended for the Navy Brunei). Missile boats: 4 "Mandau" of South Korean construction, 2 "Pandrong", 4 "Todak", 8 "Clarit" (KCR-40), 3 "Sampari" (KCR-60). Recent 4 type own building.
There are 12 minesweepers: 1 "Pulau Rani" (old Soviet project 254), 2 "Pulau Rengat" (Dutch "Tarpitite"), 9 "Pulau Roth" ("Condor" from the Navy GDR).
Navy landing forces include 4 DTD "Makassar" of South Korean construction, 3 – 4 TDK "Teluk Langsa" (old American LST), 6 TDK "Teluk Peñu" (American "Tacoma"), 11 TDK "Teluk Gilimanuk" (XNUMMK project) Navy GDR, another 108 are the same used as supply ships), 2 TDK Teluk Bintuni. Another 1 TDK Teluk Bintuni is under construction. There are 3 amphibious assault boats of various types.
Naval aviation includes up to 26 base patrols (3 CN-235MPA, up to 23 Australian N-22) and up to 40 transport aircraft (Australian, American and French), about 30 helicopters (up to 10 Bell-412, up to 3 NASXNNX AS322N1, 365 EC3B, up to 3 Bo-120).
The Marine Corps includes 1 and 2 groups (1 and 2 brigade with reinforcement of tank and artillery regiments and separate battalions) and 3 brigade. The armament is mainly Soviet and Russian made. These are 35 amphibious tanks PT-76, 10 BRDM-1, APCs and other software systems. BTR-110P, 34 American LVTP-10A22), up to the 2 towed-in-thcptechs (54 French LG3 and up to the 97-Soviet-based M-12s), 80 Czech MRLS-RMNXNHX-and-4-Chinese Tours-4-a-offs CHR X-NUMX and 66 and 50 and 15 of the Chinese Tours 7-a-thrythaus, as well as 1 of the Czech MRLS-RMNTNXX and 95-Chinese Tour 20-a-offs CI X-NUMX and 1 and 75 and 30 and 17 and 70 of the Chinese CSTO X-NUMX-based CSTs, the 4 of the Czech-based RSZO RM-90, and the 61-5 and 60-CENTURY L / 70, 56 Soviet C-60).
"Tiger" does not survive
Indonesia has a unique geographical location. With a huge territory, it is located only on the islands, has an even larger water area and 240-million population. At the same time, within the country there is a mass of latent internal conflicts that regularly turn into an open form, for example, separatism in the province of Aceh. In addition, the country is located in a highly unstable region, where a wide variety of conflicts between states and their coalitions are possible.
The above features have very complex requirements for the armed forces of Indonesia. It is necessary, on the one hand, to keep large enough groups of ground forces on all major islands, and on the other hand, to have significant mobile forces for their operational support, if necessary. It is clear that mobility is ensured only by a large fleet of military transport aircraft and significant amphibious assault forces. To ensure their actions, as well as to protect the territory and water area, which has huge dimensions and length, very strong air forces and fleets are needed.
Formally, the Indonesian Armed Forces are impressive. But at the moment they categorically do not meet the above requirements. Ground forces and naval forces need a significant increase in the number of personnel and total rearmament, and the Air Force must be created almost from scratch.
Of course, first and foremost Indonesia requires long-range fighter jets. The ideal variant is Su-35, because the Air Force is already exploiting its "next of kin" - Su-27 and Su-30. Jakarta officially announced its intention to acquire 11 Su-35С, it remains only to find funds for this. There is information that a contract providing for a contract for the supply of Su-35 partially barter settlement will be signed before the end of the year (https://www.vpk-news.ru/news/39789).
Indonesia needs great attack helicopters. It is easiest to continue purchasing Mi-35P, although Apache is a very strong competitor. The European "Tiger" can hardly fight them.
It is necessary to build in Indonesia a full-fledged ground defense, and the acquisition of air defense systems and air defense systems in the whole range of heights and distances is required. Their full spectrum (ZRPK "Pantsir-С1", ZRK "Thor" and "Buk", ZRS C-300 of different modifications) can be provided only by Russia. The United States has a Patriot air defense system, but there is no short-range or medium-range air defense system, in Europe the situation is the opposite. Naturally, it is more reasonable to build a system developed and installed by one country than to assemble different air defense systems around the world. However, Indonesia in the near future, apparently, will buy the Norwegian NASAMS.
The biggest uncertainty is the requests of the leadership of Indonesia. First, it is unclear what its financial resources are. The country had very large revenues from oil exports, though, and the costs for various goals are also very high, and hydrocarbons are now not as expensive as they were just four years ago. Secondly, it seems that there is no intelligible concept of military construction. Current purchases are somewhat chaotic in terms of the selection of types. The main thing is that it is not clear why the new equipment (with the exception of tanks) is acquired in such small quantities that it often deprives the supply of any meaning. These crumbs do not allow troops to solve real combat missions, but they make the loss of even one unit extremely painful from a military, financial and psychological point of view.
But in any case, the Indonesian arms market for all the reasons described above is very attractive and the struggle for it among all the major exporters of military equipment will soon inevitably become tougher.