The Security Service of Ukraine and the nationalist organization С14 * exchange information about the activities of the "separatists", said one of the leaders of the radicals, Yevgeny Karas.
According to him, the special service also provides such information to the Right Sector *, the Azov battalion and other similar organizations.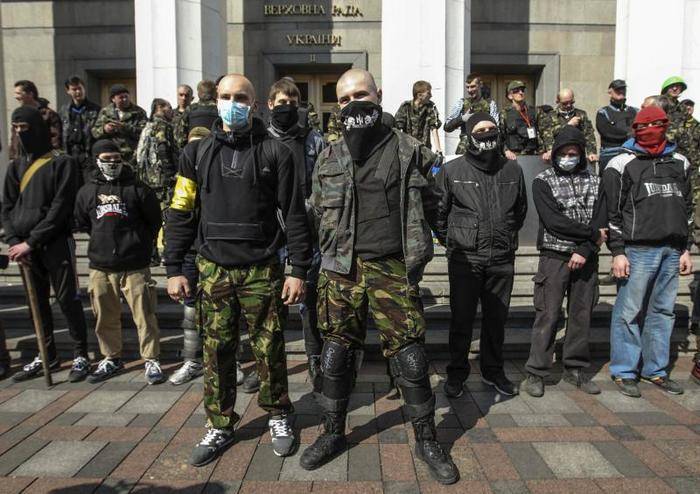 If we have information - we give it to them in the SBU. They have information - sometimes they give us
- said Karas in an interview with the online edition of Liga.net.
He clarified that the SBU, for example, reports С14 * about the planned rally "separatists" rallies. Karas added that the special services are asking nationalists to assist in the fight against the "threats" that may arise during these actions.
Earlier, a former associate of Karas, a nationalist Dmitry Reznichenko, accused С14 of working for the SBU. He addressed the organization's leader Karasiu personally.
I consider you an agent of the SBU, because: firstly 18 February 2014, when you ordered your hundred to flee from Maidan and hide in the Canadian consulate, you said then that you were called by SBushniki and warned that there would be shooting and a complete sweep square. I have been thinking about your words for a long time and you know what you came to? To the fact that for some reason I don't call the Security Service of Ukraine, they don't warn and give orders. And they call you. Secondly, because Sergey Silantyev, an employee of the Peacemaker center, in a private conversation, you were directly called an SBU agent. I am used to believing "peacemakers" in these matters.
- wrote Reznichenko.
С14 * was created at the beginning of 2010-s as the youth wing of the nationalist party "Svoboda" Oleg Tyagnibok. The organization received scandalous fame after the change of power in Ukraine in 2014: its members are engaged in tracking and maiming people who are considered "separatists". They also smash shops and exhibitions, disperse left-wing rallies.
* Extremist organization banned in Russia.