Real hysteria proved itself in the Ukrainian segment of social networks. The reason for the hysteria is the appearance on the shelves of toy plastic minimodels (to put it mildly, not the most accurate) of Russian
tanks
T-14 Armata. Vigilant Ukrainian bloggers and journalists noticed the appearance of models of tanks of the "aggressor country" in stores and immediately began to "knock" at the SBU on those who sell toys in Kiev.
So, on page
Facebook
Ukrainian journalist Andrei Bulgarov, the following note appeared:
Good morning to good people!
So while you were sleeping, the Katsapski tanks entered the capital. And not anyhow, but "Armata"! No, no, until the "disturbing briefcase" leave where it lies. It is better to pick up a pitchfork and go on a visit to the Arcadia shopping center, which is located near the Industrial Bridge, find Silpo there and ask them: "Are you *** completely ******? Can ****** burn you to ****** your ******** supermarket? "
No, this is not a call for extremism. Although, if the SBU does not respond to a direct violation of the law on preventing the propaganda of the country of the aggressor, anything can happen. Hey, SBU! Shopping center "Arcadia", supermarket "Silpo", children's toys department.
Vigilant Bulgarov escorted his post "exposing zrady" with a photo of children's toys from the shelves of a Kiev supermarket.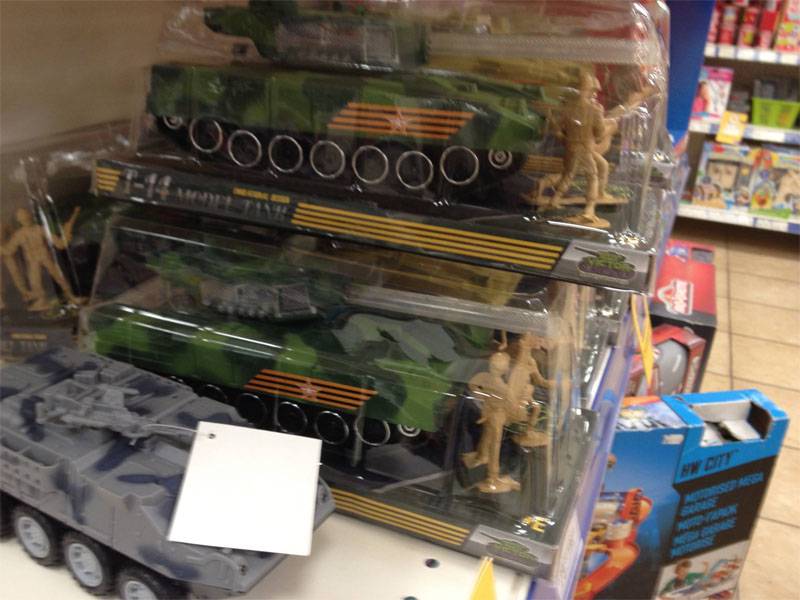 One of Bulgarov's subscribers wrote a comment on his note on the social network (the author's text is saved):
An activist, maybe you'd better not fight with children's toys, but to find out why impoverished residents of Ukraine get gas at a triple price, and their gas, Ukrainian, flows into the pockets of public servants, or why black soil from the Kiev region, yes, I think, from all over Ukraine in Poland every day carry, or why the forest near Kiev so mercilessly began to cut down ...