After the actual defeat of the Islamic State (* banned in the Russian Federation) in Syria, the question of the relationship of the Syrian center with one of the largest Syrian ethnic groups, the Kurds, is acute. One of the problems is that external forces are being used by the Kurds against Damascus, actually pushing them to engage in combat operations against the CAA outside the Kurdish territories in the SAR.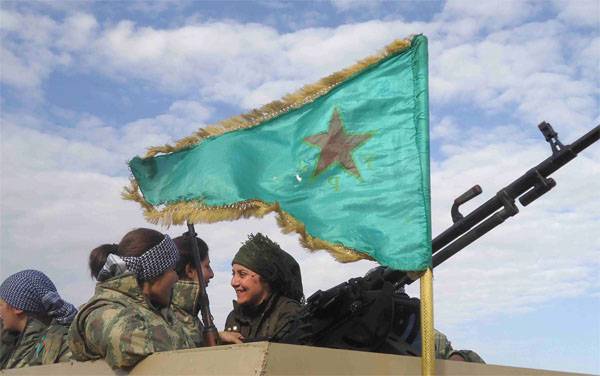 Another complication is the reluctance of Turkey to see the Kurds as a full-fledged side of the internal Syrian political settlement. Ankara is clearly afraid of the consolidation of Kurds in Syria, which (consolidation) may have an impact on 17 million Kurds living in Turkey.
The Syrian question was once again raised during the negotiations between Vladimir Putin and Recep Erdogan, who arrived a few days ago in Sochi. The leaders of the two countries did not ignore the question of the Kurds. This was actually confirmed by Turkish Foreign Minister авavusoglu, who literally stated the following:
We believe that a political decision is no less important than the military struggle against terrorists. Turkey will take into account Russia's proposal for convening a congress of Syrian parties, including Kurdish political forces.
After the talks, the head of the Kremlin's press service, Dmitry Peskov, did not hide the fact that negotiations between the two presidents "were very difficult."
Syrian journalist Riyad Farid Hijab publishes his comments on the Kurdish issue in the UAR. According to him, the issue of exile and destruction of ISIS (*) in Syria is almost resolved. Now the most important is the question of the territorial structure of the country. One of the areas of work is the new Syrian constitution, which would reflect the interests of all ethnic groups living in the republic. Among other things, the possibility of granting autonomy to the Kurds within federal Syria is being considered. Given the fact that not only Turks, but also the United States, are against the autonomy of the Kurds in Syria, it turns out that the Russian Federation is the main ally of the Kurds. Riyadh makes such a conclusion on the basis of a simple fact: it is Russia that is ready to support the creation of territorial Kurdish autonomy within the framework of a united Syria.
Negotiations, according to some sources, are already underway. One of the rounds of inter-Syrian talks with the presence of representatives of the Russian Center for the Reconciliation of the Parties was held in the city of Kamyshly. Recall that it was from there that the board was sent to Russia with the wives and children of the militants, who had previously left the North Caucasus in the UAR. The board landed in the Chechen Republic.
Without the tough position of Russia, the Kurds would have frankly little chance of obtaining autonomy, as there would be little chance for the whole of Syria to preserve its integrity and transition to a political settlement process.