Today Caspian celebrates its 295th anniversary
flotilla
Russian Navy.
Historical
The beginning of the flotilla, which in recent years has turned into a full-fledged strike force of the Russian Navy, takes on November 15, 1722. The formation of the naval formation of the Volga-Caspian direction was laid down by decree of Peter I.
At present, the flotilla is on guard of Russia's sea borders in the southern direction. Ships and motorboats of the compound took part in striking cruise missiles at the positions of the militants of the Islamic State terrorist group (* banned in the Russian Federation) in the SAR.
Since 2014, the composition of the Caspian flotilla has been replenished with 18 new ships and vessels of various classes. These are, among others, the IRC "Grad Sviyazhsk", "Uglich", "Velikiy Ustyug", armed with those sea-based cruise missiles "Caliber", used to inflict damage to terrorists in Syria. The Caspian flotilla includes two new amphibious boats of the "Serna" type.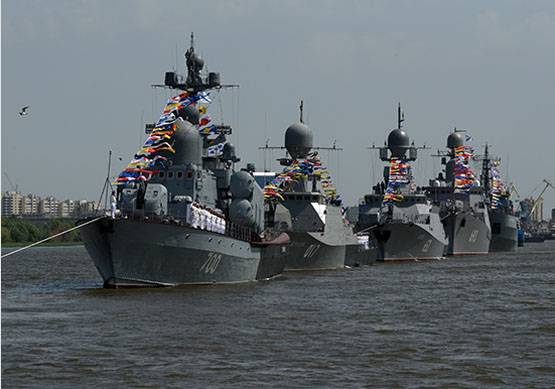 From the message
press service
Southern Military District:
In accordance with the concept of its development of the auxiliary fleet, 7 boats of integrated rescue support, 2 rescue tugboats, 3 offshore tugboats and a floating crane vessel were received by the shipyards from the shipyards. The Caspian flotilla approaches its 295 summer anniversary with high rates in combat training. During the 2017 school year, the fleet units of the flotilla performed more than 400 combat exercises using practical exercises.
weapons
on sea, coastal and air targets. In particular, missile firing of cruise missiles, including high-precision weapons - the Caliber missile complex, more than 200 artillery firing, more than 40 mine action exercises and practical mine setups, also about 160 anti-sabotage exercises were performed.
Marked indicator such as surfacing. For 2017, it was over 1,2 thousand days for all ships and vessels of the flotilla.
"Military Review" congratulates the sailors of the Caspian Flotilla of the Russian Navy and veterans on the 295 anniversary of the connection!