By the way, how was it with the understanding of this trend in the development of small
weapons
at the turn of the century abroad? For example, in the United States for a long time, work was carried out on the ISR project (individual assault rifle), which was supposed to be a hybrid of an automatic rifle and a grenade launcher: an 5,56-mm rifle and an 20-mm grenade launcher - the complex was called OICW. Moreover, the rifle had an aiming range of 300 meters, and a grenade launcher - 1000! The grenade he fired exploded not with a direct hit on the target, but above or near it, which allows the enemy to be hit even if he is around the corner. The US military said that now the enemy can run, but will not be able to escape. True, the main "highlight" of the new weapon, they still considered its "optics", or rather, the guidance system. It provided a laser pointer and a computer that determines the distance to the target, while the computer's task was to calculate the parameters of the shot and transfer the information to the microchip built into the 20-mm grenade. Thanks to this, almost 100 percentage effectiveness of defeating the enemy is achieved. The sight is equipped with infrared lenses for night combat. It is possible to install a video camera with multiple magnification to monitor the enemy. And all this is obviously the way it was, the only question is, where is this rifle now ?!
According to the original plans, each infantry squad of nine people was to receive four such rifle complexes, which would thus replace the M16А2 rifle in service with the M203 under-barrel grenade launcher and the M249 light machine gun. According to calculations, the effectiveness of OICW rifles in comparison with the М16 / М203 complex should increase 5 times due to the possibility of suppressing the enemy's infantry unit at ranges of 800 — 1000 using an air-blast grenade. It had to act as follows: the range finder measured the distance to the target, then it was displayed on the sight display and automatically entered into the fire control system, which calculated the corrections for firing conditions and determined the number of revolutions of the grenade that it had to make on the path. In this case, the point of contactless exploding of a grenade was combined with the target contour, and when it reached there, it was undermined!
However, the main stumbling block was the price - for mass production, the cost of the new system would be about $ 10 thousand. (The cost of the M16А2 is $ 600-700). Weight in 8,16 kg (data for 2003 year), recognized "unacceptable for the US Army" (for TK it could not exceed 6,35 kg).
Further, in fact, it is possible and not to talk about new American rifles for future "environmental wars." But this does not mean that "there" they do not think about new weapons. Think and how - in the agency DARPA. And they have already concluded that it is necessary to equip American soldiers with disposable communication systems. Up to one shot only one step!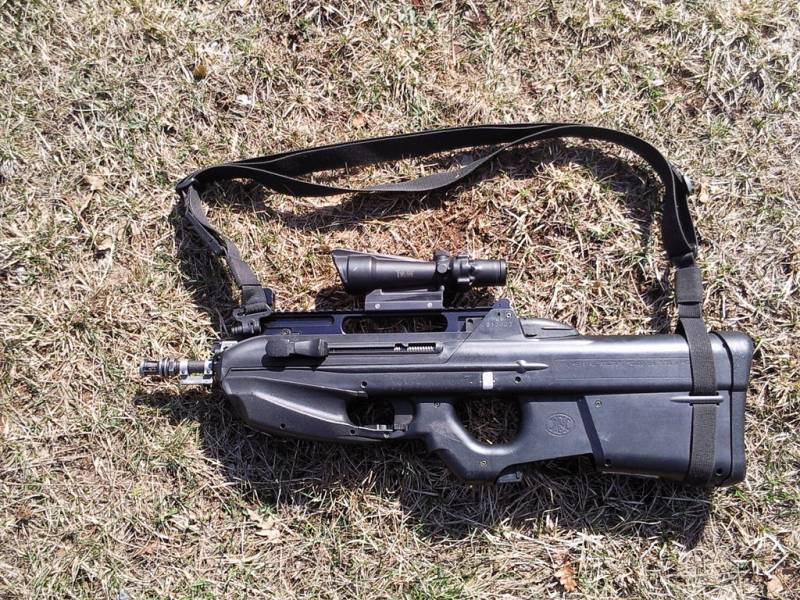 Rifle FN 2000
In Belgium, the modular system FN 2001 was created in 2000. It is also a hybrid rifle and grenade launcher, the latter has a larger caliber 40-mm. Weight 4 kg, so everything is fine. The spent cartridges are thrown forward.
So, while the AK-12 Russian machine gun looks like a "ugly duckling" against the background of all these monsters, it can well become a cheap and practical weapon "for a long time", and this is also a very important quality for any type of small arms in the era of robot drones applying for mass production and use. Although, as already mentioned here in previous materials, the very country that first takes a step towards "firing computers" will achieve greater superiority over other countries, and even more than having hypersonic rockets ...
What goals are set by the creators of new generations of modern small arms, and what problems should it solve today? It is believed that it should disable heavily protected targets - well, let's say, covered with 20 layers of Kevlar, or armor made of titanium plates, have an aimed range higher than now, and effectively hit moving targets at this distance. At the same time, the weapon must be extremely light, have a large ammunition, but reliability is a traditional requirement for any weapon at all times!
Interestingly, despite the abundance of all sorts of prototypes, including those on liquid fuel, as well as using caseless ammunition, none of this went into service with the army, although some of them look quite attractive. Too many things are put on the map here, which is why it is simply impossible to make a mistake here! Naturally, those who undertake the improvement of various types of small arms usually most often start with pistols, since these weapons are somewhat simpler than others, and the need for them is still less than in other forms.
Well, now, dear readers of our site, pay attention to this "
historical
document ", which was born exactly 37 years ago, that is, in 1980:
442353 Penza region, Kondolsky district, Pokrovo-Berezovka, school
Shpakovsky V.
Tov. Shpakovsky V.!
To your letter addressed to the Minister of Defense, I inform you that the military unit 64176 has considered the proposal "Pistol" and notes the following:
1. The constructive solution offered by you to a pistol with a single-use barrel is not new; Known West German pistol BNW-2, equipped with a block of disposable barrels with active-reactive bullets.
2. Wearable ammunition in the domestic PM pistol is 16 cartridges (2 equipped shop). To create such ammunition in your proposed design, you need an 2-3 barrel unit, so this structure will not have advantages in weight characteristics compared to a PM pistol (0,9 polypropylene density g / cm cubic), and in overall characteristics it will be significantly inferior.
3. The use of polypropylene (TU6-O5-1105-73) rifled shafts as a material with low frost resistance (-5: - 15) and low melting temperature (176 degrees; recommended operating range up to 120: 140 degrees) is unacceptable, t. to. shooting safety will not be provided. Due to the high temperatures of the combustion products when fired (2800 degrees), it is possible "to soften the adjacent shafts, which will lead to instability of the ballistic characteristics."
Based on the above, your proposal "Pistol" is of no practical value for us and is unacceptable for implementation.
COMMANDER OF THE FORCED PART OF 64176-V.V. V. SEMENOV
"13" May 1980.
561/17/173
In fact, it was not a "military unit", but the Research Institute of the Ministry of Defense. Well, at that time I was a very arrogant young man, I worked as a teacher in a rural school, and then once, making my way from it to the 15 railway station on foot along the chernozem Russian road, or, better to say, straight along ", I decided to come up with an" effective "pistol like this, in a way that was not even equal!
Gun for combat swimmers from Germany
The gun is a status weapon!
First of all, I thought that the gun in our time is a status weapon, because it is required only occasionally. That is why today it hardly makes sense to carry a decent weight of alloy steel and non-ferrous metals. At the same time, for all its status, there are people who use it all the time, and status weapons should also hit the enemy for sure, just like any other. This is how the idea of ​​a pistol made entirely of plastic with a block of barrels, which are at the same time chamber and one-time use, and computer control and ignition, was born to me!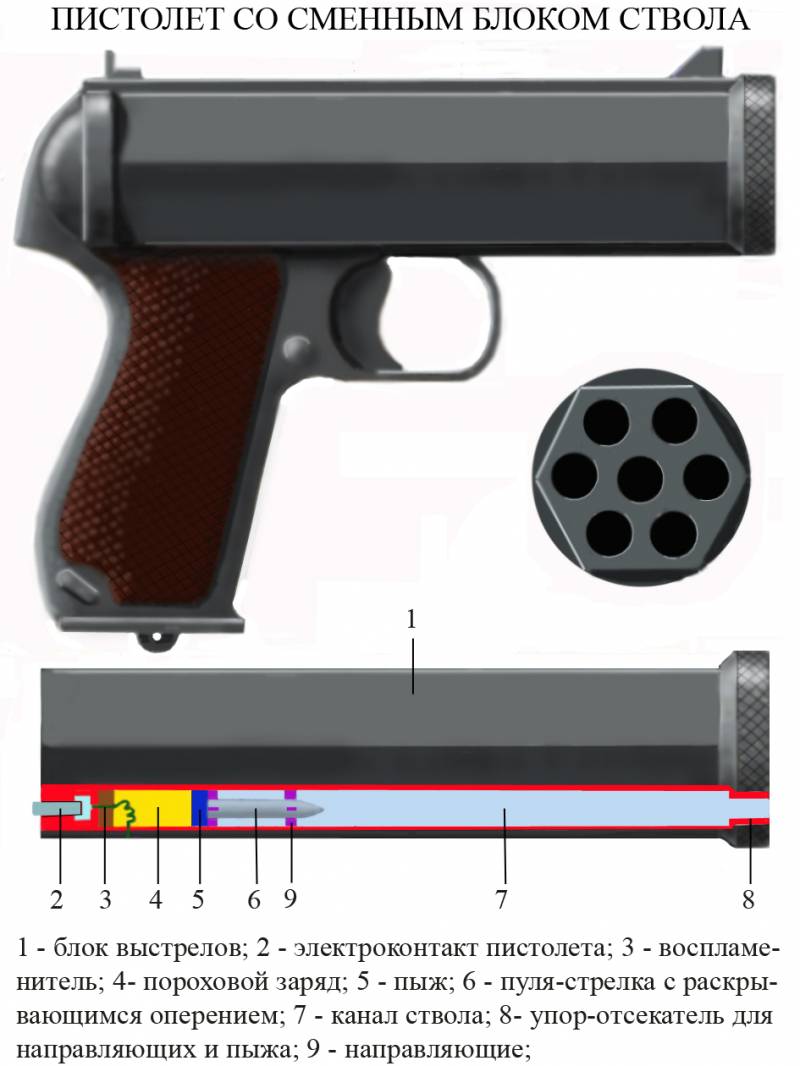 Schematic diagram of the author's gun mod.1980 g.
As can be seen from the answer, everything that I proposed at that time was either already known, although this was not reported in the open press at that time, or was technically difficult to implement. Although, if I had a plastic with higher heat resistance under my hands, then ... why not? Whatever it was, and after some time I found out that the Australian inventor O'Dwyer patented his shooting device called "Metal Storm" - in fact everything is the same ancient Espinol, but only higher technological level.
According to the principle of ancient espinoli
The main highlight of O'Dwyer's design is the location of the bullets in the barrel one by one, with the powder charge placed behind each of them, and the ignition is carried out using a computer. Thanks to this, an incredible rate of fire equal to ONE MILLION OF SHOTS PER MINUTE was obtained at the test!
That was where the VLe pistol came into being, less rapid-firing, but nonetheless capable of making 50 thousands of shots per minute. But what it gave: the first three bullets fired from this pistol almost at one moment, fly almost along the same trajectory. And although the return even in such a short time slightly displaces the weapon, the spread of bullets is still small. And if so, then the chance to hit the target from the first "triple" shot increases significantly. Moreover, it is curious that this gun was provided for an electronic system of identification of the owner. So, without knowing the "password", it was impossible to shoot from it!
Then O'Dwyer made contact with the US Army, which became interested in Australian technology. There is no question of any purchases and, especially, the adoption of a weapon. But with the support of, among others, the Americans, O'Dwyer continues his research.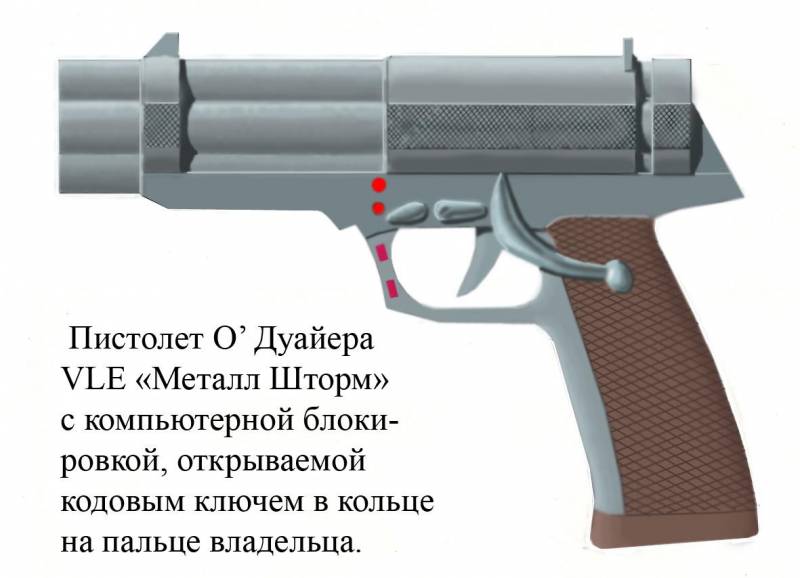 Metal Storm Pistol O'Dwyer.
Well, then I didn't know anything about it, and I made a mock-up of this gun out of paper impregnated with epoxy resin, and then I tested it in action. It had seven trunks, placed in a circle, with the ignition of charges in each of them from a flashlight bulb with crushed glass and bullets, carved out of ... beef bones for soup! The firing mechanism was a simple "jack switch", wired to light bulbs. Batteries power located in the handle. The most interesting thing is that since this gun was conceived as disposable, all the free space in it was filled with a mixture of potassium nitrate and sugar, in which the eighth light bulb was also recessed!
On the tests, none of the seven bullets with cross-shaped feathering from the blades of the Neva razors from 10 meters did not break through the standard plasticine target of NATO (oh, how much plasticine it took for me then!), But it was so tumbling that finding them later cost me a lot of work. Well, and then I pulled the trigger one last time, and my gun turned to ash right before my eyes!
Then, already in the 90-s, there were attempts to promote it through official organizations that sent the project even to Tula, from where rather strange reviews came - "everything is fine, very original, but the trunk diameter is great, what if dirt gets there?" However, the risk, in their opinion, was still too great to finance this project.
Is the gun in 3D everyone can make for himself?
And now the next round of scientific and technological revolution takes him to a new level. Today it is known - and our media reported that a certain enterprising young man named Cody Wilson, a student from Texas, was able to print an exact copy of the American AR-3 assault rifle in 15D technology and even make several shots from it. The only metal part in it turned out to be ... a steel block that breaks the cartridge primer, and the cartridges themselves, however, are smaller than the combat ones. Then he also made a pistol with the speaking name Liberator - "Liberator". It is believed that the program of printouts of various types of weapons can be ordered even through the Internet, and ... who knows what copying can mean in the very near future?
The metal copy of the Colt 1911А1 was also made, though it cost $ 2 thousand and the parts had to be manually ground a little. But this is only the beginning!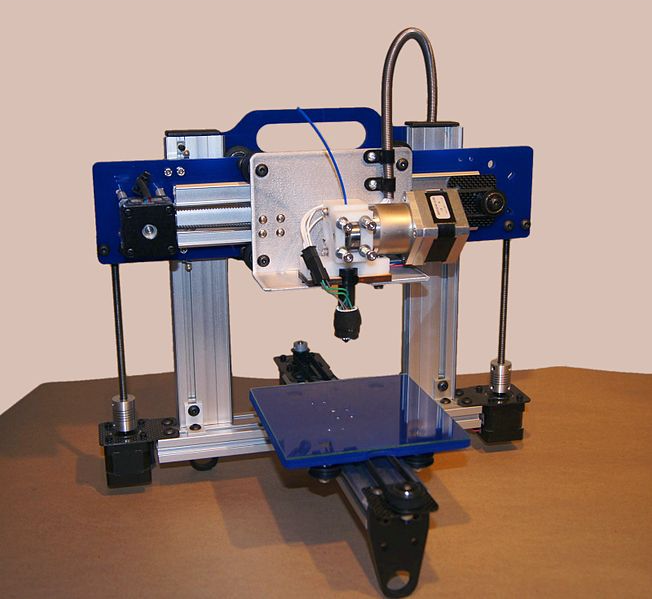 3D printer.
So, if you think about it, then a copy of any modern pistol or machine gun in 3D is already ... the "stone age"! After all, if you combine the principle of action of the O'Dwyer pistol with 3D technology, then ... you can create much more sophisticated and original shooting "gadgets" and, in particular, such as the one that you see in the photo here!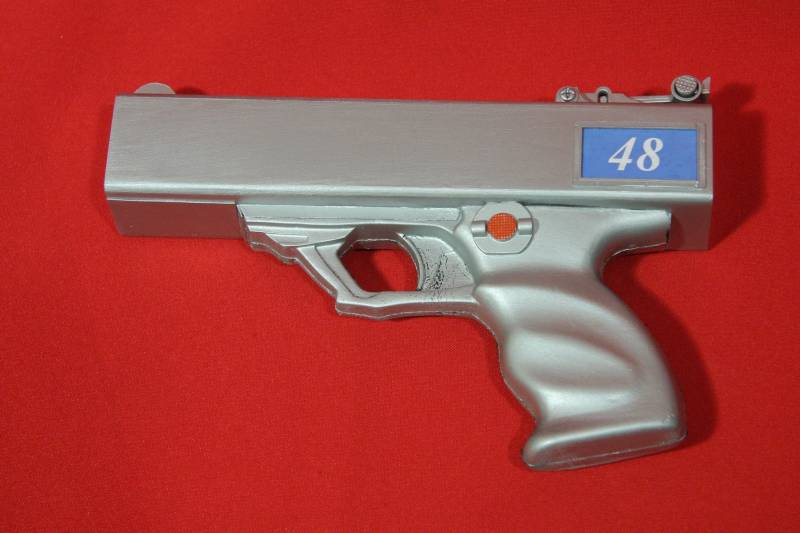 Pistol (weight and size layout) with a block of barrels on 48 shots in technology 3D.
The entire gun is printed out of heat-resistant plastic in 3D and is essentially disposable. The barrel block has 16 channels, each of which contains three ammunition at once, each of which is located inside a Teflon ampoule. The bullet itself is similar to the German hand grenade of World War II, which had a cylindrical warhead and a very long handle, only in this case at the end of this "handle" there is a cross tail, because the barrels of this gun are not rifled, but smooth! Here is a powder propellant charge and a microchip with an igniter. Moreover, the microchip is initiated by the microwave radiation of the firing mechanism; therefore, no contact wires are required for the gun, which ensures complete tightness. Today, small devices without batteries have been created that can find and reflect TV signals. In particular, Science News magazine reported that scientists from the University of Washington had created a wireless communication system, which differs from all existing ones in that it does not need a battery to supply energy. The new technology is called "ambient backscatter", which can be translated as "using scattered signals." Here and microchips in the bullets of this gun may well use this signal exchange system. Not now - so in the near future!
To be continued ...