Information Agency
Rider
reports a series of incidents in the African state of Zimbabwe. At least three explosions in the capital of the country, the city of Harare, are reported, as well as the entry of several units of the armed forces and dozens of armored vehicles into the city, including armored personnel carriers.
It is stated that the military took control of the building of the state television and radio company ZBC. It is alleged that with the media employees working in the building, did not stand on ceremony. Many were beaten and pushed out of the TRK building.
The US Embassy announced the suspension of its activities in Harare. The US diplomatic mission appealed to American citizens in Zimbabwe to not leave their homes due to "political uncertainty in the country." Britain also closed its embassy in the capital of Zimbabwe. British diplomats also issued an appeal to their subjects with a request to be vigilant and, if possible, to refuse to go out into the street during the crisis.
Recall that the United States and Britain maintain the sanctions regime against one of the poorest countries in Africa for several years, then weakening it, then introducing previously revoked sanctions again.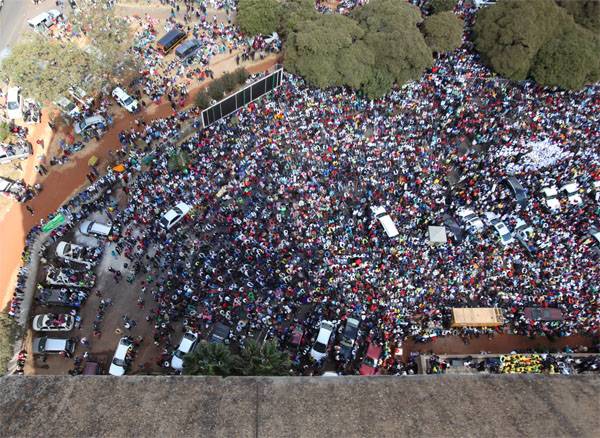 It all began in Zimbabwe with the fact that the 93-year-old permanent president of the country Robert Mugabe blamed the commander of the country's armed forces, Konstantino Chivengi, that he was going to arrange a coup d'etat in the country. Chivenga then brought the troops under his control to the streets of Harare. In this case, the first thing, as already noted, the military took control of the state media.