Patrol ship of the Black Sea
fleet
"Inquisitive", completing tasks as part of a permanent grouping of the Navy in the Mediterranean, headed for Sevastopol, the chief rank officer of the Russian Black Sea Information Department, Captain First Rank Vyacheslav Trukhachev, told reporters.
The patrol ship (TFR) of the Black Sea Fleet (BSF) "Pytlivy" completed the execution of tasks as part of the permanent grouping of the Navy in the Mediterranean Sea and headed for Sevastopol. Currently, the ship passes the Dardanelles and Bosphorus Straits, heading for the Black Sea
- he said.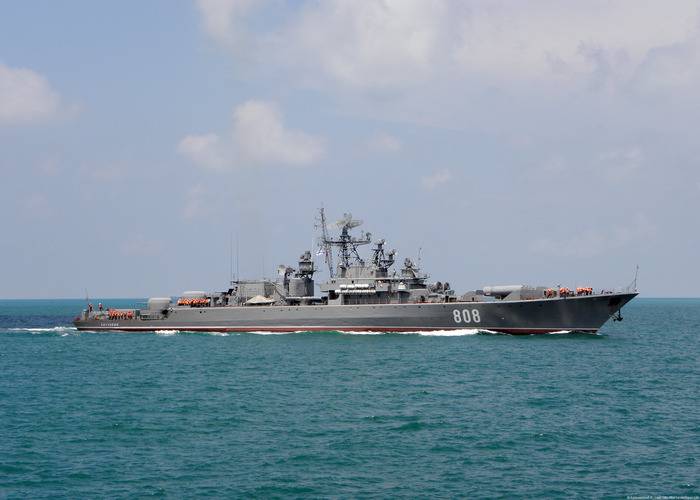 It is noted that the crew of the ship acted as part of the grouping since September 2017.
"Inquiring" - the patrol ship of the project 1135M, which was in service with the Soviet Navy and is currently in service with the Russian Black Sea Fleet. The ship was laid on 27 on June 1979 of the year at the Yantar shipyard in Kaliningrad, launched on 16 in April of 1981, joined the fleet of 9 in February of 1982 of the year.
Power installation: 2 GTU, 2 screw fixed pitch. Power: 34000 HP (total) speed: 32 node; economical: 14 nodes
Flight autonomy: 30 days, Crew: 190 man, Displacement: 3400 tons, Length: 123 meters, Width: 14 meters, Draft: 4,5 meters, armament: 4 URK-5 "Rastrub" missile complex, 2 dual missiles, 10-aircraft missiles, 2 launch systems of the Rastrub missile system, 100 dual missiles, and 10N missile units - Osa missile system, 100 2 mm AK-533 artillery, 2 four-container 6000 mm torpedo tubes, XNUMX, RBU-XNUMX rocket launchers.