The fourth in the series of the newest mine defense (PMS) ship of the 12700 project will be laid at the Nevsky Shipbuilding Plant in St. Petersburg before the end of this year, reports
press office
Ministry of Defense of the Russian Federation.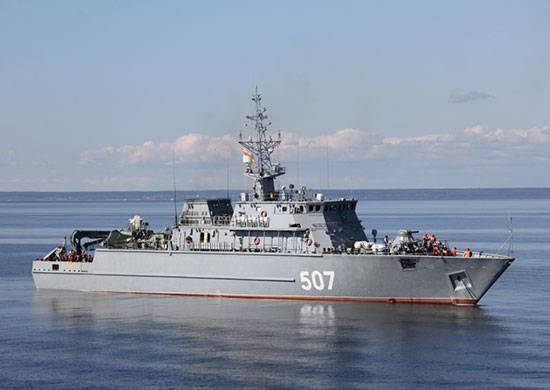 It is also planned that in the 2018 year, the serially built anti-mine defense ships Ivan Antonov and Vladimir Yemelyanov will be launched.
"The newest Russian technologies that were used in the construction of this ship have no analogues in the world. In accordance with the technical specifications of the Russian Navy's Main Command, the 12700 project's mine defense ships are equipped with the most advanced means of mine search and detection, have excellent maneuverability and seaworthiness. The composition of the ship's mine weapons includes an unmanned cutter, which will allow the search and detection of mines without the slightest risk to personnel, "the release says.
It is reported that, "according to the assessment of the High Command of the Navy, the 12700 project's mine defense ships are a kind of breakthrough in the fight against sea mines, including new, so-called" smart "sea mines, which the 12700 project crews can successfully detect water, and in the sea ground. "
Help press service:
"The displacement of the 12700 project ship is 890 T, the length is 61 m, the width is 10 m, the speed at full displacement is 16,5 knots, the crew is over 40 people. The ship has high maneuverability due to the use of an effective complex of various thrusters. A new approach to creating comfortable conditions of service for the crew was implemented in the draft of the PMO ship. These warships have the world's largest monolithic fiberglass hull, formed by vacuum infusion. "