The United States is covering up militants of the Islamic State banned in the Russian Federation * (IG *) in order to use them to advance their interests in the Middle East, the Defense Ministry said on Tuesday.
As noted in the department, the United States refused to bomb a column of militants retreating from Al-Bukemal (Abu Kemal). In addition, coalition planes tried to "interfere"
aviation
VKS in the area of ​​Al-Bukemal: they entered the airspace over the 15-kilometer zone around the city. The states wanted to safely retreat the retreating terrorists from the attacks of government troops.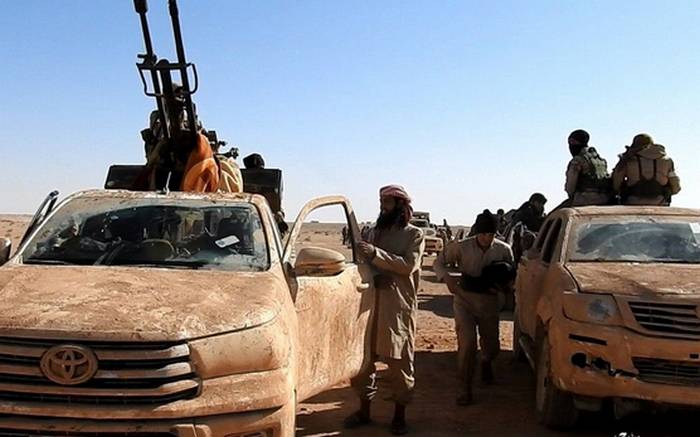 The Americans referred to the fact that the militants "voluntarily surrender to them as prisoners" and now fall under the provisions of the Geneva Convention "On the Treatment of Prisoners of War". At the same time, the command of the Russian group asked why the terrorists with military equipment and heavy weapons would regroup in the zone controlled by the international coalition. Militants were going to make new attacks on the Syrian troops in the area of ​​Al-Bukemal. Americans could not answer.
The ministry stressed that "these facts are indisputable evidence that the United States, by imitating an irreconcilable fight against international terrorism for the world community, in fact provides cover for combat-ready IG units * to regain their fighting capacity, regroup and use them in promoting American interests in the Middle East. "
In addition, the Russian department showed photographs taken by X-NUMX on November by Russian drones. They show how the armed forces of the IG *, fleeing from the strikes of the Russian aviation and government troops, with many kilometers of columns leave Al-Bukemal in the direction of the crossing of the Wadi al-Sabha on the Syrian-Iraqi border.
The Defense Ministry added that the attack of Syrian troops in Al-Bukemala frustrated America's plans to create government out of control of Damascus on the eastern bank of the Euphrates. In the role of "pro-American" forces controlling the city, the militants of the IG, "recoloured by the colors of the Syrian Democratic Forces (VTS), were supposed to act." This is confirmed by the flags used in Al-Bukemale used by the VTS, transmits
RIA News
Islamic state * (IG *) is a terrorist group banned in Russia