RF Armed Forces of Russia destroyed the headquarters of terrorists in the province of Deir ez-Zor. In Rakka, 13 civilians died in a mine explosion. 25 militants surrendered CAA in Aleppo. Reports about it
FAN
with reference to Syrian sources.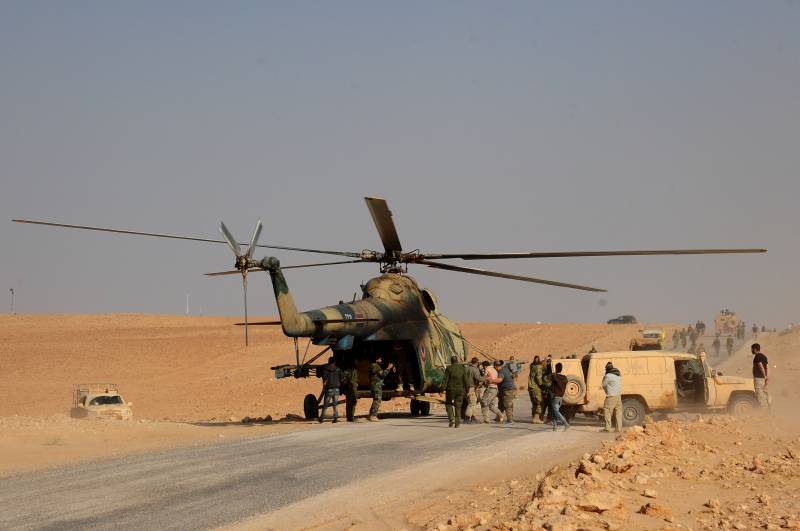 The Syrian Arab Army (CAA) launched an offensive against radical positions in the Jobar and Ayn Tarma (Damascus) areas. Militants suffer losses in manpower. Skirmishes between the CAA and radical anti-government forces south of Damascus and in the area of ​​the Duma settlement were also noted.
The Syrian Air Force, together with the Russian Aerospace Forces, attacked the zones of deployment of radical Islamists "Dzhebhat al-Nusra" (banned in the Russian Federation) in the south of Aleppo province. Following the talks, in which the Russian military took part, the 25 militants of the radical opposition surrendered to the Syrian army.
In the region of the Syrian-Iraqi border (the province of Deir-ez-Zor), a military operation was carried out to clean up the IG (prohibited in the Russian Federation) of the city of Abu Kemal. As a result of one of the raids, 3 field commanders of the IS were destroyed. The Russian Aerospace Forces conducted a series of strikes against terrorist facilities in the vicinity of the city. Destroyed the headquarters of the IG and several militants.
Meanwhile, the fighters of the Syrian Democratic Forces (SDF) continued to seize the territory of the province of Deir ez-Zor. Reported the establishment of control over the settlement of Zir and the village of Ash Shahil.
Thirteen civilians of the administrative center of the province of Raqqa were killed in the explosion of a mine laid in one of the city's quarters by the IG terrorists. Recall demining the city engaged in the Syrian Democratic Forces (SDF). When work on cleaning the village was just beginning, the militia fenced the city with a dozen roadblocks to prevent the spontaneous return of civilians. It is worth noting that today the explosion occurred in the area of ​​Raqqa, which was declared safe.
The Syrian Arab Army (CAA), with the support of the Russian Aerospace Forces, continued to clear out Islamists from the settlements in the north-eastern part of Hama province. Terrorists driven out of the settlements of Abu al-Ghar and Duma. A warehouse is found in the vicinity of Akerbat
weapons
left by igilovtsami.